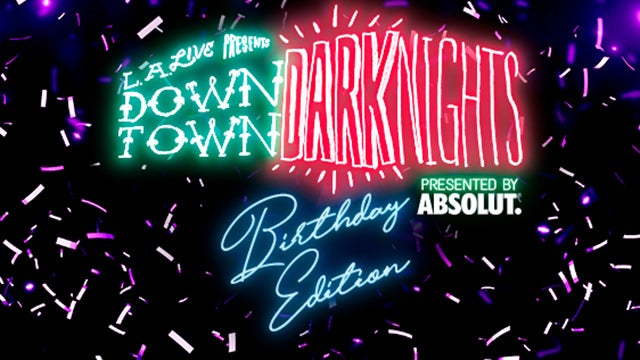 L.A. LIVE to Host Downtown Dark Nights: Birthday Edition Presented by Absolut on June 8 to Celebrate L.A. LIVE'S 10th Anniversary
L.A.'s Iconic Sports and Entertainment Destination to Kick Off Celebration with Ultimate FREE and Open to the Public Birthday Bash featuring Live Music, Performances, Games, Art Displays and Dining Specials
LOS ANGELES (May 1, 2018) – L.A. LIVE, downtown Los Angeles' premiere sports and entertainment district, will celebrate its 10th anniversary on Friday, June 8 with a special "Birthday Edition" of its signature FREE TO THE PUBLIC community event, Downtown Dark Nights.
From 6-11 p.m., Downtown Dark Nights: Birthday Edition presented by Absolut will transform L.A. LIVE into the ultimate birthday celebration featuring live music and muralists, street performers, games and more. In addition to a local indie craft vendors featuring pop-ups selling handcrafted goods and fine art, L.A. LIVE's New Era D-Lab and Team LA Store will offer up to 30 percent off on-site purchases until 9 p.m.
Select L.A. LIVE restaurants including Katsuya, Wolfgang Puck Bar & Grill, Cleo, Rosa Mexicano, Smashburger, Live Basil Pizza, Red Mango, Rock'N Fish, Lawry's Carvery and Tom's Urban will feature specially curated $5 food and drink menus. To view all the menus and more information about the event, visit lalive.com/darknights.
"Over the past decade, L.A. LIVE has played an integral role in establishing downtown as the sports and entertainment epicenter of Los Angeles. The ongoing support from our community has been critical to our success. On our anniversary, we wanted to show them the same support by creating a unique event that mirrors the community's passion, excitement and spirit," said Lee Zeidman, President, Crypto.com Arena and L.A. LIVE.
Anchored by Crypto.com Arena and the Los Angeles Convention Center, L.A. LIVE over the past 10 years has hosted more than 204 million guests and 15,000 events including 93 award shows, 125 movie premieres, 1,700 sporting events and over 2,000 concerts and live events.
Since its inception in 2008, L.A. LIVE has played a major role in the revitalization of downtown Los Angeles. The renowned district pioneered a new era in entertainment and has become the region's premier destination for sports and entertainment events showcasing the best-of-the-best championship games, sporting events, community celebrations and star-studded award shows.
ABOUT L.A. LIVE
L.A. LIVE is a 4 million square foot / $3 billion downtown Los Angeles sports and entertainment district adjacent to Crypto.com Arena and the Los Angeles Convention Center featuring The Novo by Microsoft, a 2,300 capacity live music venue, Microsoft Theater, a 7,100-seat live theatre, a 54-story, 1001-room convention "headquarters" destination (featuring The Ritz-Carlton, Los Angeles and JW Marriott Los Angeles at L.A. LIVE hotels and 224 luxury condominiums – The Ritz-Carlton Residences at L.A. LIVE – all in a single tower), the GRAMMY Museum, the 14-screen Regal L.A. LIVE: A Barco Innovation Center, broadcast facilities for ESPN along with entertainment, residential, restaurant and office space. Developed by Los Angeles-based AEG, L.A. LIVE, considered to be the nation's most active 'live content and event campus,' also features 260,480 sf of conference center and ballroom facilities, a 100,000 sf special events deck, the famous Lucky Strike Lanes and Lounge, the celebrity owned Conga Room, a one-of-a-kind GRAMMY Museum, saluting the history of music and the genre's best known awards show all centered around Microsoft Square, a 40,000 sf outdoor event space. L.A. LIVE showcases more events, award shows, sporting competitions, concerts and hospitality options than any other destination in the world. Visit L.A. LIVE today at www.lalive.com
Media Contact
Michael Roth
AEG
mroth@aegworldwide.com
(213) 742-7155
Cassandra Zebisch
AEG
czebisch@aegworldwide.com
(213) 763-7712