Now Playing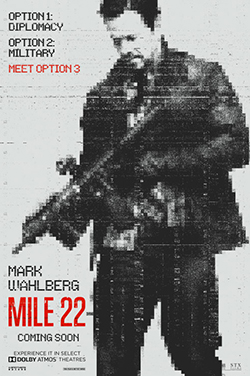 Mile 22
Genre: Action
Synopsis: In a visceral modern thriller from the director of Lone Survivor, Mark Wahlberg stars as James Silva, an operative of the CIA's most highly-prized and least understood unit. Aided by a top-secret tactical command team, Silva must retrieve and transport an asset who holds life-threatening information to Mile 22 for extraction before the enemy closes in.
Rating: R
Showtimes: 7:00 PM | 9:30 PM | 12:00 AM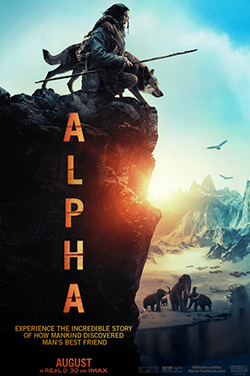 Alpha
Genre: Action
Synopsis: An epic adventure set in the last Ice Age, ALPHA tells a fascinating, visually stunning story that shines a light on the origins of man's best friend. While on his first hunt with his tribe's most elite group, a young man is injured and must learn to survive alone in the wilderness. Reluctantly taming a lone wolf abandoned by its pack, the pair learn to rely on each other and become unlikely allies, enduring countless dangers and overwhelming odds in order to find their way home before winter arrives.
Rating: PG13
Showtimes: 5:00 PM | 10:20 PM | 12:00 AM
RealD 3D: 7:40 PM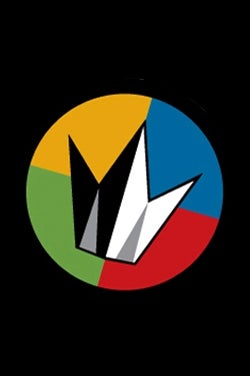 Cowboy Bebop: Knockin' On Heaven's Door (Dub)
Rating:
Showtimes: 7:00 PM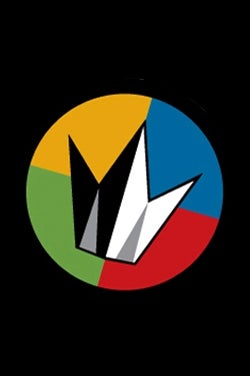 Elvis: '68 Comeback Special
Rating:
Showtimes: 7:30 PM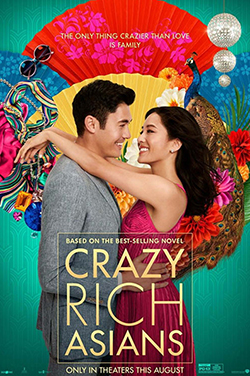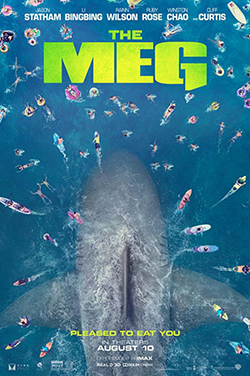 The Meg
Genre: Action
Synopsis: After escaping an attack by what he claims was by a 70-foot shark, Jonas Taylor must confront his fears to save those trapped in a sunken submersible.
Rating: PG13
Showtimes: 11:50 AM | 6:10 PM | 6:50 PM | 9:10 PM | 10:10 PM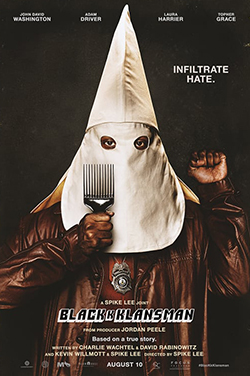 Slender Man
Genre: Horror
Synopsis: In a small town in Massachusetts, four high school girls perform a ritual in an attempt to debunk the lore of SLENDER MAN. When one of the girls goes mysteriously missing, they begin to suspect that she is, in fact, HIS latest victim.
Rating: PG13
Dog Days
Genre: Drama
Synopsis: In a suburb of Vienna during some hot summer days: A teacher who is in bondage to a sleazy pimp, a very importunate hitchhiker, a private detective on the run for some car vandals, a couple...
Rating: R
Showtimes: 11:00 AM
Darkest Minds
Genre: Sci-Fi, Thriller
Synopsis: Imprisoned by an adult world that now fears everyone under 18, a group of teens form a resistance group to fight back and reclaim control of their future.
Rating: PG-13
Showtimes: 1:20 PM | 4:00 PM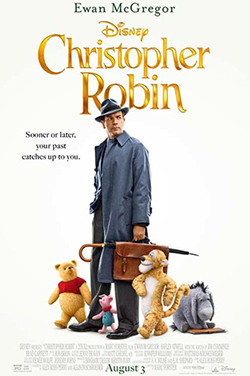 Spy Who Dumped Me
Genre: Action
Synopsis: Audrey (Mila Kunis) and Morgan (Kate McKinnon), two thirty-year-old best friends in Los Angeles, are thrust unexpectedly into an international conspiracy when Audrey's ex-boyfriend shows up at their apartment with a team of deadly assassins on his trail. Surprising even themselves, the duo jump into action, on the run throughout Europe from assassins and a suspicious-but-charming British agent, as they hatch a plan to save the world.
Rating: R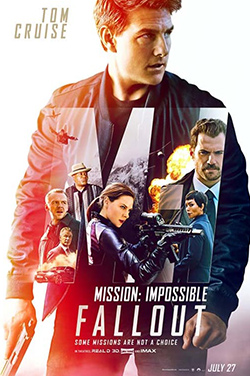 Mission: Impossible - Fallout
Genre: Action
Synopsis: The best intentions often come back to haunt you. MISSION: IMPOSSIBLE - FALLOUT finds Ethan Hunt (Tom Cruise) and his IMF team (Alec Baldwin, Simon Pegg, Ving Rhames) along with some familiar allies (Rebecca Ferguson, Michelle Monaghan) in a race against time after a mission gone wrong. Henry Cavill, Angela Bassett, and Vanessa Kirby also join the dynamic cast with filmmaker Christopher McQuarrie returning to the helm.
Rating: PG13
Showtimes: 11:00 AM | 12:00 PM | 2:30 PM | 3:30 PM | 6:40 PM | 10:25 PM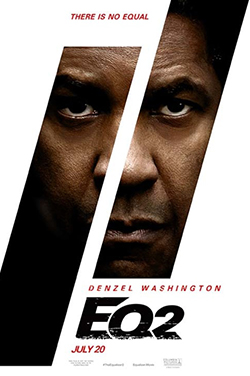 Equalizer 2
Genre: Action
Synopsis: Denzel Washington returns to one of his signature roles in the first sequel of his career. Robert McCall serves an unflinching justice for the exploited and oppressed - but how far will he go when that is someone he loves?
Rating: R
Showtimes: 11:50 AM | 3:10 PM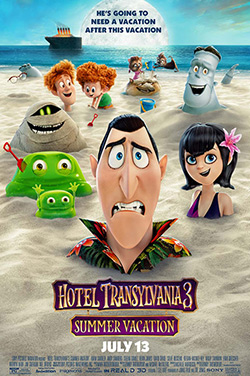 Hotel Transylvania 3: Summer Vacation
Genre: Animation
Synopsis: In Sony Pictures Animation's Hotel Transylvania 3: Summer Vacation, join our favorite monster family as they embark on a vacation on a luxury monster cruise ship so Drac can take a summer vacation from providing everyone else's vacation at the hotel. It's smooth sailing for Drac's Pack as the monsters indulge in all of the shipboard fun the cruise has to offer, from monster volleyball to exotic excursions, and catching up on their moon tans. But the dream vacation turns into a nightmare when Mavis realizes Drac has fallen for the mysterious captain of the ship, Ericka, who hides a dangerous secret that could destroy all of monsterkind.
Rating: PG
Showtimes: 11:40 AM | 2:20 PM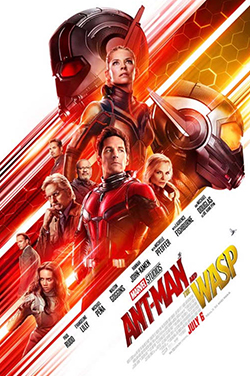 Ant-Man and the Wasp
Genre: Action
Synopsis: As Scott Lang balances being both a Super Hero and a father, Hope van Dyne and Dr. Hank Pym present an urgent new mission that finds the Ant-Man fighting alongside The Wasp to uncover secrets from their past.
Rating: PG13
Showtimes: 1:10 PM | 4:20 PM
Sign up for the 'Movie Insider'
Showtimes, upcoming attractions, advance ticket sales, promotions/sweepstakes & offers.
Pricing & Information
Adults
General (Mon - Thurs) - $17.00
General (Fri - Sunday) - $17.50
4DX - General price + $8.00
RealD 3D - General price + $4.00
Premiere Cinema - General price + $1.00
Matinee (Weekday before 5:30 PM; Weekend/Holiday before 2:00 PM) - $14.00
Children, Seniors
Military
Students
$13.00 (Monday-Thursday, excluding holidays)
Groups
Groups of 10 or more receive $2 off each ticket! Call (877) 234-8425 to book your group tickets today! Group tickets not available at cinema box office.
NOTE: All price levels may not be available for all shows.
GUEST SERVICES: (213) 763-6071
PRIVATE THEATRE RENTALS
Regal L.A. LIVE: A Barco Innovation Center is L.A.'s best new event space. » See Brochure
Now Playing in 4DX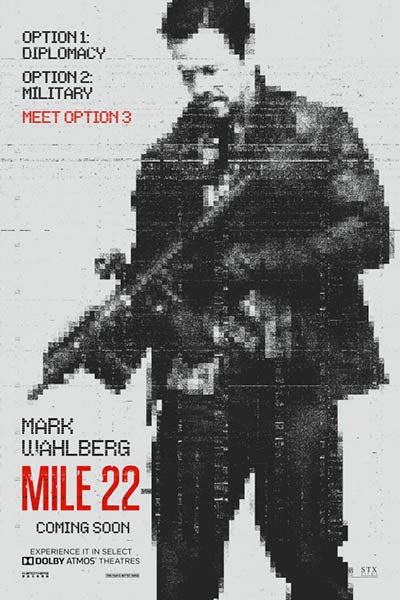 Address
1000 W Olympic Blvd Los Angeles, CA 90015
Host a Private Event
L.A. LIVE is the perfect place for your group meetings, party or convention. Choose from many elegant spaces.
Learn More