ICE IMMERSIVE
Experience movies like never before with the stunning technology in the best seats.
Now Playing
Venom: Let There Be Carnage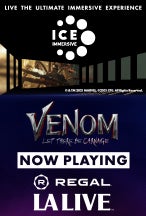 Eddie Brock attempts to reignite his career by interviewing serial killer Cletus Kasady, who becomes the host of the symbiote Carnage and escapes prison after a failed execution.
» See Show Times For 'Venom: Let There Be Carnage'
WHAT IS IT?
ICE IMMERSIVE LED panels on the side walls, luxury seats, superior immersive audio and BARCO RGB laser projection. Trust us…once you experience a movie like this, you'll never go back.


Dive Deeper into ICE IMMERSIVE
LED SIDE PANELS
The exclusive ICE THEATER side panels that are placed on each sides of the auditorium create a spectacular visual atmosphere through dynamic colors and shapes. The side panels create ambient images that sync to the film, giving you a one-of-a-kind sensorial experience that's not distracting but rather complementary to the film.
LUXURY SEATS
Enjoy the back reclining deluxe leather seats, each with wireless charging stations on the arm rests and built-in USB ports! All rows are curved, which provide an ideal orientation towards the screen, giving everyone the best seat.
IMMERSIVE SOUND
We assume you go to the movies for the full "movie experience", right? The sound is everything! ICE THEATER features technology consisting of 52 sound sources, 53 speakers, and 35 amplifiers! This state-of-the-art sound technology not only allows you to hear every detailed sound, but creates the ultimate sound experience!
STATE OF THE ART TECHNOLOGY
ICE THEATER features one of the best projectors in the industry consisting of nine primary colors and producing a brightness of 60,000 lumens. The colors and brightness create a remarkable image quality and a much brighter 3D! Just trust us, the image is AMAZING!
Moviegoers Talk About Their Experience!