L.A. LIVE remains committed to the health and safety of our guests, performers and staff. We are closely monitoring the evolving coronavirus situation globally through updates from local, state, and national officials. L.A. LIVE continues to welcome guests and have implemented preventative measures in line with the recommendations of the Centers for Disease Control and Prevention (CDC) and local health authorities. Learn what you can expect during your next visit—and be sure to check back here as information is updated often.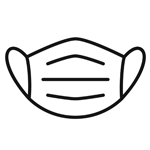 Face Coverings Recommended
Face coverings are not required, but are strongly recommended for everyone, regardless of vaccination status, in indoor public spaces by both the state and county public health departments.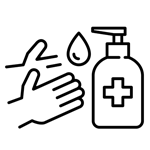 We're Fans of Clean Hands
Clean your hands often by washing with soap and water for 20 seconds or using hand sanitizer.
In order to maintain your safety as our top priority, we've created new Crypto.com Arena SAFE health protocols that will enable you to watch your favorite team or event in a safe manner. More About Crypto.com Arena SAFE
In order to maintain your safety as our top priority, we've created Peacock Theater SAFE health protocols that will enable you to watch your event in a safe manner. More About Peacock Theater SAFE
Regal L.A. LIVE CinemaSafe