4DX AT REGAL L.A. LIVE
Regal L.A. LIVE is home to the first 4DX theater in the United States! Experience the biggest blockbusters like never before with 4DX technology! The 4DX auditorium features motion seats and special effects including wind, fog, mist/rain, scents and more that perfectly sync to the on-screen action.
Now Playing
Shang-Chi and the Legend of the Ten Rings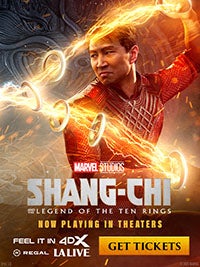 Shang-Chi, the master of unarmed weaponry-based Kung Fu, is forced to confront his past after being drawn into the Ten Rings organization.
» See Show Times For 'Shang-Chi and the Legend of the Ten Rings'
4DX EFFECTS

ENVIRONMENTAL EFFECTS
In addition to the movements, the theater is equipped with environmental effects to further enhance the experience. From a malicious storm to a gentle breeze, from the smoky explosions to the warm smell of coffee, the 4DX technology enhances these experiences with appropriate effects.