Key Addresses at L.A. LIVE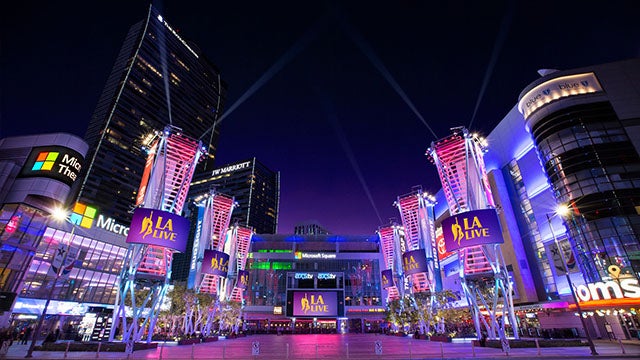 Venues
​» 800 W Olympic Blvd, Los Angeles, CA 90015
​» 1111 S. Figueroa St, Los Angeles, CA 90015
» 777 Chick Hearn Ct, Los Angeles CA 90015
» 1000 W Olympic Blvd, Los Angeles, CA 90015
​» 800 W Olympic Blvd, Los Angeles, CA 90015
​» 800 W Olympic Blvd A245, Los Angeles, CA 90015
​» 800 W Olympic Blvd A335, Los Angeles, CA 90015
Los Angeles Convention Center
Restaurants​​
Fleming's Prime Steakhouse & Wine Bar
Triple 8 China Bar & Grill
Wolfgang Puck Bar & Grill
Parking Lots
West Garage / LOT W (Gates E & F)
​» 1005 Chick Hearn Ct, Los Angeles, CA 90015
West Garage / Lot W (Gate B)
​​​» 1005 Chick Hearn Ct, Los Angeles, CA 90015
​​» 888 W Olympic Blvd, Los Angeles, CA 90015
​​» 948 Georgia St, Los Angeles, CA 90015
We recommend checking our L.A. LIVE Parking Guide prior to your visit to ensure you park in the recommended lots whether you are dining at our restaurants, attending an event, or attending a movie.
Recommended Drop-Off Points
Please obey all posted signs when dropping off and be aware that LAPD will enforce the "No Stopping" signs posted throughout the district. There are areas designated for drop-off and pick-up. Taxis, Buses and Limousines must drop-off and pick-up passengers in these designated areas. The pick-up/drop-off areas are:
The white zone on Figueroa St. (Southbound) between 11th St. and 12th St.
The white zone on Chick Hearn Ct. (Eastbound) between L.A. Live Way and Georgia St.
Host a Private Event
L.A. LIVE is the perfect place for your group meetings, party or convention. Choose from many elegant spaces.
Learn More
NIKE 3ON3 AT L.A. LIVE
Register to secure your team's spot to play in the Nike Basketball 3ON3 Tournament!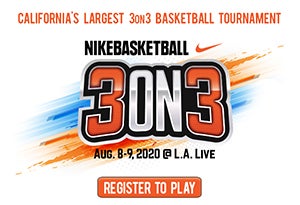 JAM OUT WITH US ON SPOTIFY
Listen to our carefully curated playlists to vibe to for the perfect occasions!