West Garage (Lot W, Gate B) We recommend using the West Garage (Lot W, Gate B, Enter on Chick Hearn Ct.) for events lasting 3½ hours or more. There is a flat rate of $10-$30 (depending on the event) payable upon entrance. By parking here, you can stay as late as you wish and do not have to worry about getting a validation.
Download our Parking Guide.
Host a Private Event
L.A. LIVE is the perfect place for your group meetings, party or convention. Choose from many elegant spaces.
Learn More
NIKE 3ON3 AT L.A. LIVE
Register to secure your team's spot to play in the Nike Basketball 3ON3 Tournament!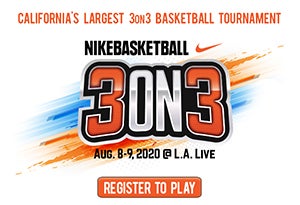 JAM OUT WITH US ON SPOTIFY
Listen to our carefully curated playlists to vibe to for the perfect occasions!