On December 6, The Game Awards will bring together gamers, developers, and spectators of all ages and skill levels to celebrate the best in this year's games and content, as well as tease the upcoming state of games as we know it. Do you know what to expect at The Game Awards? This year, we've heard that Worlds Will Change, are you ready?
BIG ANNOUNCEMENTS & BIG SURPRISES
The show we have coming together this year gets more and more insane every day. We've never had a lineup of announcements like this. Big surprises. Huge franchises. And now, you'll meet the nominees that bring heart and passion to the stage. #TheGameAwards

— Geoff Keighley (@geoffkeighley) November 13, 2018
The creator of The Game Awards, Geoff Keighley, not so subtly told us that we're about to receive some major news from the game franchises we know and love.
MAJOR MUSICAL PERFORMANCES
Each year, select games take the stage to perform top songs from their soundtrack and The Game Awards Orchestra performs the theme of the Game of the Year winner. Last year, we heard Zelda: Breath of the WIld, which theme will they play this year?
UNPREDICTABLE SPEECHES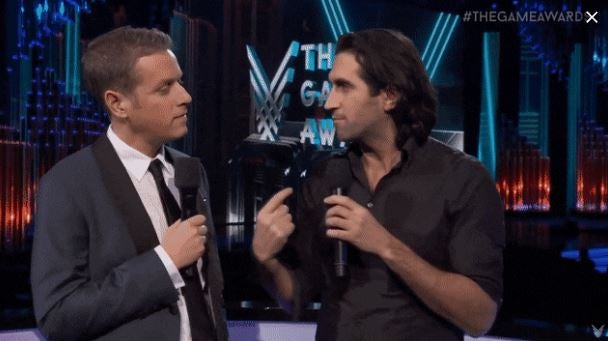 As is the case for most live award shows, you never know what people might say! Last year's trending moment of The Game Awards included game developer Josef Fares veering off script and expressing his love for the spirit of the award show!
UNEXPECTED GUESTS
The Game Awards bring together gamers, esports stars, and pop culture icons each year to celebrate the creativity and spirit of the gaming industry, like past presenters Michael Phelps, Guillermo del Toro, and Andy Serkis. We know can expect an A-List lineup of guests and presenters at this year's award show!
WORLDS WILL CHANGE
In the official announcement of The Game Awards, audiences caught a first peek at the 2018 tagline, Worlds Will Change. Creator and Host Geoff Keighley later explained that the games we love and new game announcements are going to turn the worlds we know on their heads.
Immerse yourself in the action and excitement, and hear these wild announcements live and in-person at Microsoft Theater on December 6 at The Game Awards! Get your tickets before they sell out!
Host a Private Event
L.A. LIVE is the perfect place for your group meetings, party or convention. Choose from many elegant spaces.
Learn More