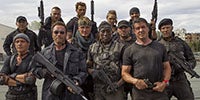 The star-studded cast of "The Expendables" are back and they're out for blood! You could watch the movie anywhere, but you can only go in the movie at Regal L.A. LIVE's 4DX! Here's why "The Expendables 3" is a must see in 4DX!

When the exposions go off, you'll feel the salt water spray.




You won't follow the chase, you'll join it.




You'll feel the concussion from the blast rumble in your chest.




Nothing goes better with popcorn than the smell of burning gunpowder (trust us).




When the shooting starts, the bullets will whiz by your head.




When "Drummer" takes to the sky, you'll be in the copilot's seat.

» Get Your Tickets to "The Expendables 3" in 4DX! (opening Thursday, 8/14)
Host a Private Event
L.A. LIVE is the perfect place for your group meetings, party or convention. Choose from many elegant spaces.
Learn More