Options are always a good thing when it comes to food choices. In fact, there are so many when it comes to dining at L.A. LIVE! From Latin cuisine to Japanese to American, you just can't go wrong. To make your eating plans a little more efficient, we've narrowed down our top standout restaurant picks!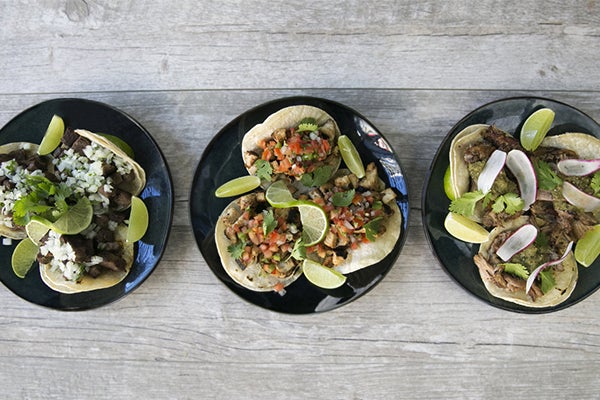 Los Tacos
The array of Latin-style tapas with modern influences are extremely tempting at Boca, but we are going to have to go with the tacos! Choose between Carne Asada, Grilled Chicken, and Carnitas, or get all three. We're not judging.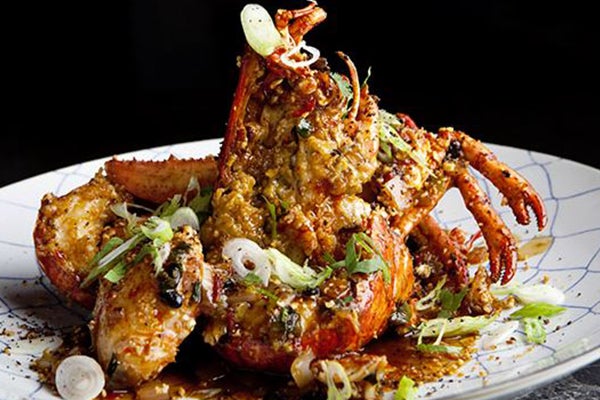 "Angry" Two Pound Live Maine Lobster
If you're looking for a more elevated meal with Chinese-inspired flavors, we recommend the "Angry" Two Pound Live Maine Lobster from WP24 by Wolfgang Puck located on the 24th floor at The Ritz-Carlton. This is served with Szechuan chilies, fried garlic, scallions, and black bean.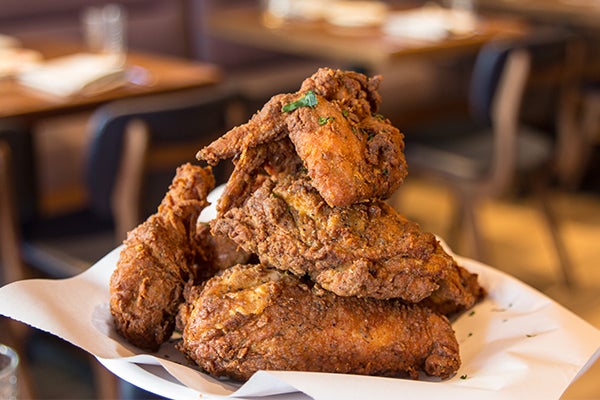 Shaq's Famous Fried Chicken
A wildly popular order at Shaquille's! This is made with jidori free-range chicken brined for 48 hours and served with house-made bbq and hot sauce! A whole chicken serves 2-3 people, but they also have half servings!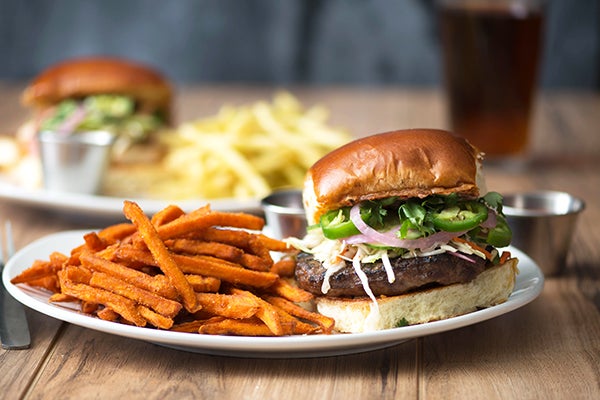 LBJ Burger
This savory burger made with Angus beef, American cheese, a fried egg, lettuce, tomato, onion, Applewood smoked bacon, jalepenos, and BBQ sauce will fulfill your foodie needs. Did we also mention that you get to choose between tots or garlic fries?
Bone-In Ribeye with Diablo Shrimp over the top
We always like the sound of a combination. A Fleming's must-try is the Bone-In Ribeye along with the Diablo Shrimp over the top. It is baked with a spicy barbecue butter sauce, perfect if you like a little kick!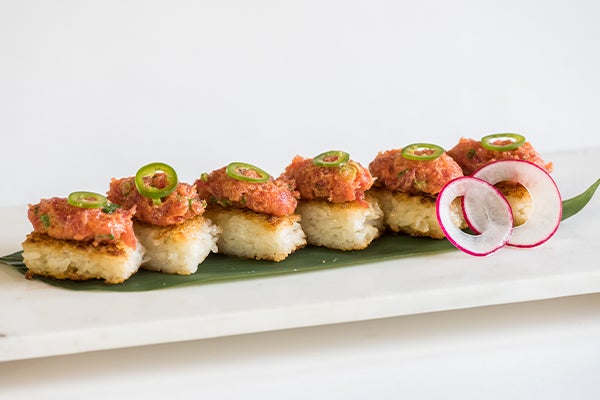 Spicy Tuna Crispy Rice
Try Chef Katsuya's signature: The Spicy Tuna Crispy Rice! Made with grilled sushi rice, spicy tuna tartare, topped with green serrano. If you're a spicy tuna lover, this one's for you!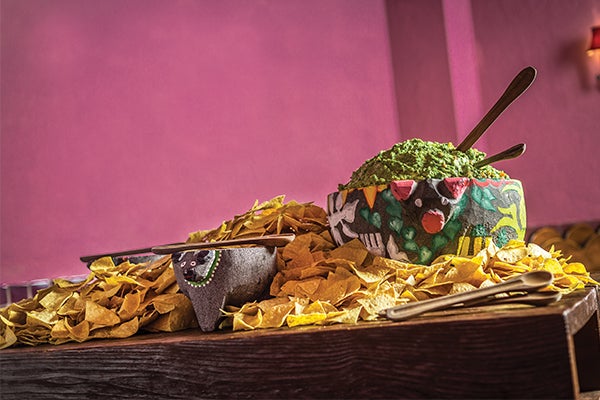 Guacamole en Molcajete
Since 1984, Rosa Mexicano has been preparing their fresh guacamole! Made with avocado, jalapeno, tomato, onion, and cilantro, and served with tortilla chips, this is definitely a must-try. It's also perfect to share with the group!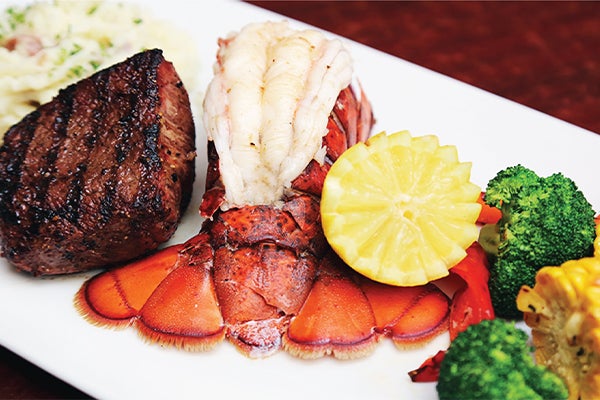 Rock'N Surf'N Turf
This dish is a must-try! Served with garlic mashed potatoes, seasonal vegetables, with drawn butter, this will totally satisfy your taste buds. You can even upgrade to the Filet Mignon to make it the ultimate Rock'N meal!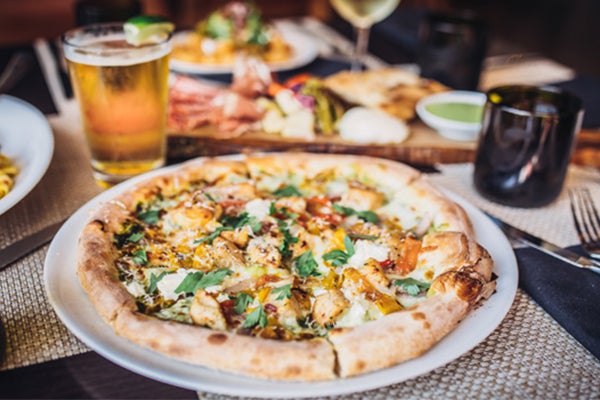 Pizza
You can never go wrong with pizza! Wolfgang Puck Bar & Grill has great pizza options to choose from including grilled vegetables, Margherita, Sweet Italian Fennel Sausage, and more!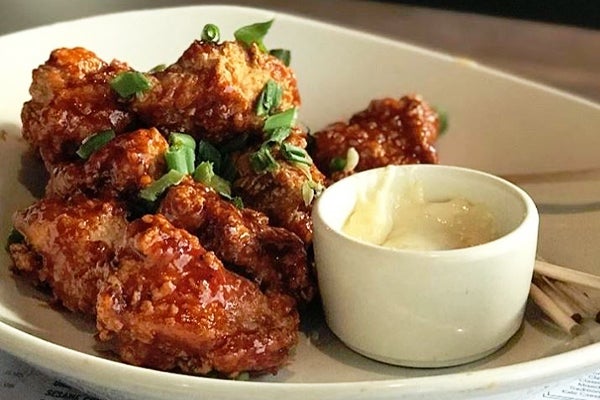 Korean Wings
We all know about the signature Yardstick beer, but when it comes to food, these Korean Wings are a must-try! They're savory and perfect to munch on while watching a game or hanging out with friends and family.
With all these foodie options, now you'll know what to look out for the next time you're headed to eat at one of these restaurants! Enjoy the taste and thank us later!
Host a Private Event
L.A. LIVE is the perfect place for your group meetings, party or convention. Choose from many elegant spaces.
Learn More