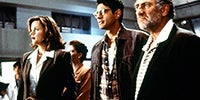 In honor of Independence Day: Resurgence coming into theaters, we are throwing it back to 1996 when the orginal movie was released. 1996 was a pretty great year....
1. Top Song – Los Del Rio 'Macarena'
2. Best Picture – Braveheart
3. Everybody Loves Raymond Debuted
4. Michael Jordan won his 4th championship
5. Lorde was born, Nov 7th
6. The Summer Olympics took place in Atlanta, GA
7. Pokemon was released
8. Grammy's Album of the year – Jagged Little Pill by Alanis Morisette
9. Tupac's 'All Eyez on Me' was released
10. Most Popular Halloween costume was Ghostface from Scream
11. Budget of the first Independence Day movie - $75 million
12. Bill Clinton was President
13. Kobe was drafted
14. Gas price: $1.23
15. Minimum wage: $4.75
Host a Private Event
L.A. LIVE is the perfect place for your group meetings, party or convention. Choose from many elegant spaces.
Learn More