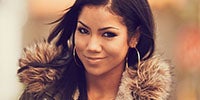 BET Experience l Friday, June 23 - 7:30PM l STAPLES Center l Buy Tickets
Jhené Aiko, popular singer-songwriter with hit singles "The Worst" and "From Time," is joining the BET Experieince on June 23rd! Here are some things you didn't know about Jhené Aiko!
Ties to B2K
She contributed vocals to several B2K releases in 2002. During this time she was known as the cousin of B2K's rapper, Lil' Fizz, and was used as a marketing tool through B2K to attract an audience. She's featured on tracks five through eight of the R&B group's remix album.
Mixed Decent
Did you know she's Japanese and African American and Dominican and Native American and German Jewish and…? Yeah, we didn't either.
What's in a Name?
Her full name is Jhené Aiko Efuru Chilombo. Her first name is derived from the Ethiopian name Ghenet, which means "Paradise" or "Garden of Eden." Aiko is her middle name and in Japanese means "little loved one."
Sail Out and Souled Out, but Never Sell Out
Music label managers told her to 'sell' herself whenever she was in meetings. Being true to her beliefs and not conforming to the industry stereotypes, she decided to do things her own way and "sail herself rather than sell herself." Sailing Soul(s) and Souled Out became the name of her albums.
Bed Peace
The video for 'Bed Peace' was inspired by John Lennon and Yoko Ono. The infamous peace protest came in response to the Vietnam War, of which Lennon and Ono were both against. Jhené's artwork depicts her and Childish Gambino in a similar pose to the legendary couple.
She Has an Alter Ego
Move over Sasha Fierce because there's a new alter ego in town, and her name is J. Hennessy. Jhene Aiko stated that she experiences about twelve different personalities in her head each day, one of them being J. Hennessy, her rap alter ego. "She still sings, but she's more aggressive and talks about things that a lot of R&B singers don't talk about."
Jhené AIko is is hitting the stage at STAPLES Center on June 23rd! Don't miss her! Tickets
Host a Private Event
L.A. LIVE is the perfect place for your group meetings, party or convention. Choose from many elegant spaces.
Learn More