After months of cheering, screaming, and for some, crying – the BIG GAME is finally here! For many, the Big Game is about the love of football and seeing what team will take the title. For others, it's about everything else that comes with it, because there is sooo much to love about the Big Game!
Food & Drinks
Whether it's the wings, the nachos, the dip, or yes, the pizza, there's one thing we can all agree on: pigging out on all the junk food is one of our favorite parts about the Big Game!
Shaquille's Big Game Party is just the spot to indulge in all you can eat & drink! Look forward to:
$70 per person 'All You Can Eat/Drink' including:

Hot Wings (Choice of 3 House sauces)

Egg Rolls

Beef Sliders

Truffle Fries

Quesadillas

Jalapeno Poppers

Well Cocktails

Draft Beer
There will be multiple TV's throughout restaurant & patio and the game audio to be played.
Doors open at 11:30AM!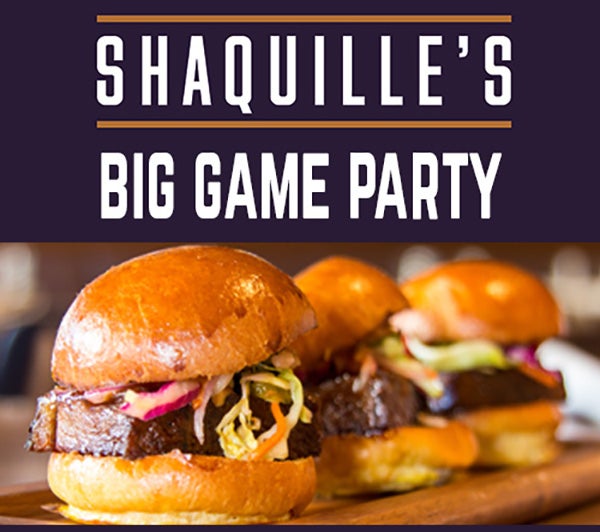 Commercials
Like many, watching the commercials during the Big Game is something to look forward to. With over 90 million viewers, the anticipation of seeing what new and exciting commercials companies will bring, is always exciting. We can all still remember our favorite commercials, right?
Half-Time Show
Can't forget about the halftime show! The halftime show is something that many viewers look forward to every year. Featuring some of the biggest stars in the music industry from Justin Timberlake to Beyoncé to Bruno Mars and this year is no different with Shakira and J.Lo taking the stage!
☝🏽week out. Can you tell we're excited?! 🎸 #SuperBowlLIV ✨ pic.twitter.com/UrLSRMZ5OY

— Jennifer Lopez (@JLo) January 26, 2020
Spending Time with Friends and Family
The Big Game is a great opportunity to bring all your favorite people together! Whether it's friends or family, sharing the excitement with them is always a great time.
Bring everyone to Tom's Watch Bar and participate in the Big Game Tailgate!
The $25 ticket includes:
Unlimited refills of beers in the 40oz Two-Handed Steins

Premium seating in the 360 degree room for the game

Special give-aways and prizes during the game
Grab your spots and click here to buy your tickets!
We can't wait for February 2nd!
Host a Private Event
L.A. LIVE is the perfect place for your group meetings, party or convention. Choose from many elegant spaces.
Learn More