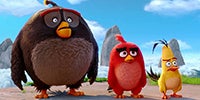 ---
Whether the movie was based on an existing video game or the spirit of video games, films have drawn inspirational from all types of digital gaming! The latest one of these films, The Angry Birds Movie, inspires us to look back at the movies that were inspired by video games.
TRON: LEGACY (2010)
Prince of Persia (2010)
Spy Kids 3-D: Game Over (2003)
Resident Evil (2002, 2004, 2007, 2010, 2012)
Super Mario Bros (1993)
Lara Croft: Tomb Raider (2001, 2003)
Wreck-It Ralph (2012)
Need for Speed (2014)
Pixels (2015)
The Angry Birds Movie (2016)
Want to be a part of the Angry Birds video game? Well, we can't do that - BUT you can come to Regal L.A. LIVE: A Barco Innovation Center and enjoy the movie! Tickets
Host a Private Event
L.A. LIVE is the perfect place for your group meetings, party or convention. Choose from many elegant spaces.
Learn More