Taylor Swift Gets 'Championship' Banner at STAPLES Center
by laliveinsider on Mon., Aug 24 at 09:22 AM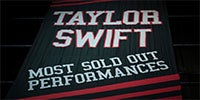 Los Angeles Lakers Legend Kobe Bryant Surprises Swift On-Stage During The 1989 World Tour to Unveil Her Banner for Setting Arena Record for Most Sold Out Shows by an Artist
History was made on August 21 when singer, songwriter Taylor Swift returned to STAPLES Center with her 1989 World Tour for the first of five sold-out Los Angeles performances (August 21, 22, 24, 25 & 26). The unprecedented and sold-out five show run gives Swift the all-time STAPLES Center record for most sold-out performances by any artist in the fifteen-year history of the internationally famous arena with a total of 16 sold-out concerts.
To commemorate the historic achievement, Los Angeles Lakers guard and 5-time NBA Champion Kobe Bryant surprised Swift on-stage during her opening night appearance to congratulate her on the unprecedented achievement and announce that a "Championship Banner" to commemorate her record would forever hang from the STAPLES Center rafters alongside those representing the LA Kings and Los Angeles Lakers championships. Bryant also shared with Swift the fact that her 16 sold out shows equals the 16 NBA Championships that the Lakers have won.
"When the most important records are set here at STAPLES Center, we at the Lakers and the LA Kings have a tradition, we raise a banner," said Kobe Bryant. "On behalf of STAPLES Center, AEG and all of your fans in Los Angeles it is out honor to unveil for the first time, your own championship banner that will be permanently hung here as a tribute to you and your unbelievable record."
"All of us at STAPLES Center could not be more excited and proud to have such a dynamic and incredible artist like Taylor Swift to be the first artist to hang a record setting banner for her 16 sold-out shows," Lee Zeidman, President, STAPLES Center. "We began this run with Taylor back in May 2009 and we feel so fortunate to have watched her grow as an artist while watching her fans grow with her as well."
Host a Private Event
L.A. LIVE is the perfect place for your group meetings, party or convention. Choose from many elegant spaces.
Learn More