The theme of Earth Day 2020 is Climate Action! April 22nd will mark the 50-year celebration of millions of Americans coming together to launch the world's largest environmental movement. Earth Day has allowed passage for landmark environmental laws in the U.S. relating to clean air and water as well as endangered species. To keep the momentum going, here are small steps we can take to become more eco-friendly!
Use Your Own Reusable Grocery Bag
When you go shopping, bring along your own reusable bag instead of buying a paper or plastic bag from the grocery store. You'll not only save money, but you'll do your small part to help save the environment!
Use Reusable Straws and Utensils
If you are getting takeout with food or drinks, opt-in for using your own reusable straw and utensils instead of one-time plastic ones. It's estimated that 269,000 tons of plastic pollution are swept into our waterways and oceans, harming marine life and the environment. This is a small way to make a difference!
Use a Water Pitcher
Invest in a refill water pitcher instead of buying plastic bottled water. This way, you're eliminating the use of more unnecessary plastic that is not easy to break down and harms our environment. You can easily purchase a water filter and pitcher at your local grocery store.
Be Creative with Your To-Go Meals
Use glass jars to pack your meals like yogurt, salads, and soups. If you're a business, consider selling your meals in glass jars and offer a discount to customers who return and reuse them!
Unplug Electronics When Not in Use
Take the simple step of unplugging that straightening or curling iron when not in use. Unplug your phone charger when it's done charging. By doing these simple acts, you'll cut down a little on the electric bill and you'll help to fight climate change.
Use Energy-Efficient Light Bulbs
Did you know that by changing to energy-efficient light bulbs, you use up to 80% energy and they still last up to 25 times longer! This means you're also saving up to $75 each year on light bulbs. Work smarter, not harder.
Try To Eat Less Meat
By reducing the amount of animal protein you eat by half, you can actually cut your carbon footprint by more than 40%! This doesn't mean you have to go vegan or vegetarian, but just by cutting down a little, you'll still be making a difference.
Carpool When Driving
Public transportation would be the best option, but if you feel more comfortable riding in your own car, consider carpooling on your way to work with a coworker, or with a friend, if you're all going out to the same place!
It doesn't have to be a huge life change that you need to take on in order to make a positive impact for this Earth Day and every day. We get that it can be hard to get out of certain routines, but a great start is by slowly implementing these small steps! Here's to fighting climate change! Spread the word and use the #EarthDay2020 when posting your contribution on social media.
Host a Private Event
L.A. LIVE is the perfect place for your group meetings, party or convention. Choose from many elegant spaces.
Learn More
NIKE 3ON3 AT L.A. LIVE
Register to secure your team's spot to play in the Nike Basketball 3ON3 Tournament!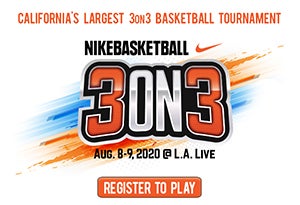 JAM OUT WITH US ON SPOTIFY
Listen to our carefully curated playlists to vibe to for the perfect occasions!