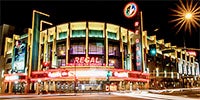 More than 30,000 movie-goers visited Regal Cinemas L.A. LIVE Stadium 14 over Easter Weekend, shattering the cinema's previous record, largely in part to the release of Furious 7, but also the exclusive showings of Furious 7 in 4DX. Regal Cinemas L.A. LIVE Stadium 14 is the country's first and only 4D technology-based movie experience that incorporates motion-based seating synchronized with over 20 different effects optimized by skilled editors of i-studio, the 4DX in-house editing team, maximizing the feeling of immersion within the movie.
"Being the only movie theater in the country that features 4DX technology, it was proven that movie-goers exclusively chose to visit Regal Cinemas L.A. LIVE Stadium 14 for the 4DX offerings to experience Furious 7 in the unique setting that allows you to experience every explosion and be in the driver seat for every adrenaline-pumping scene for every ride," said Shelby Russell, Vice President, Marketing for L.A. LIVE.
To purchase your reserved seat for any movie and 4DX experience at Regal Cinemas L.A. LIVE Stadium 14, visit Fandango.com.

About Regal Cinemas L.A. LIVE:
Regal Cinemas L.A. LIVE offers the premier movie theatre experience in Los Angeles. With stadium seating and digital projection in all 14 theatres, as well as 6 RealD 3D screens, it provides the latest in technology to ensure every movie experience is the highest quality. The 803-seat Premiere House theatre is one of the largest stadium auditoriums in the United States. Complete with a 70-foot wide screen, the Premiere House makes every picture larger than life. Host of the LA Film Fest, Hollywood red carpets, and numerous world premieres, Regal Cinemas L.A. LIVE is the preferred destination for movie industry leaders to entertain and impress.

For all media inquiries please contact:
Michael Roth Cassandra Zebisch
(213)742-7155 (213)763-7712
[email protected] [email protected]
Host a Private Event
L.A. LIVE is the perfect place for your group meetings, party or convention. Choose from many elegant spaces.
Learn More