Regal L.A. LIVE: A Barco Innovation Center to Show 'Star Trek Beyond' in Barco Escape
by laliveinsider on Wed., Jul 13 at 11:19 AM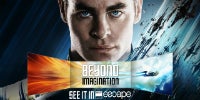 Sacramento, Calif. — July 13, 2016 — Regal L.A. LIVE: A Barco Innovation Center will be one of an exclusive group of theaters worldwide offering fans the opportunity to experience Paramount Pictures and Skydance's "STAR TREK BEYOND" in Barco Escape, the multi-screen, fully immersive theatrical format that debuted at L.A. LIVE earlier this year. Starting July 22nd when the film opens in theaters, Los Angeles Star Trek fans will discover a new kind of Star Trek adventure available exclusively in Barco Escape, with select sequences of the new film created by J.J. Abrams' Bad Robot team to dramatically expand the universe across three screens
"Justin Lin's Star Trek Beyond is an epic adventure — truly larger than life," said producer and Bad Robot president J.J. Abrams. "It is especially fitting, then, that we are partnering with Barco to provide an ultra wide-screen immersive experience using their unique Barco Escape format. This premium format dramatically expands the width of the viewing plane, giving filmmakers an innovative new tool with which to tell stories and audiences an enhanced new way to experience cinema."
"STAR TREK BEYOND," the highly anticipated next installment in the globally popular Star Trek franchise, created by Gene Roddenberry and reintroduced by J.J. Abrams in 2009, returns with director Justin Lin ("The Fast and the Furious" franchise) at the helm of this epic voyage of the U.S.S. Enterprise and her intrepid crew. In "Beyond," the Enterprise crew explores the furthest reaches of uncharted space, where they encounter a mysterious new enemy who puts them and everything the Federation stands for to the test.
From Paramount Pictures and Skydance, "STAR TREK BEYOND" is a Bad Robot, Sneaky Shark, Perfect Storm Entertainment production. The film stars John Cho, Simon Pegg, Chris Pine, Zachary Quinto, Zoë Saldana, Karl Urban, Anton Yelchin and Idris Elba. Directed by Justin Lin, the third film in the franchise series is produced by J.J. Abrams, Roberto Orci, Lindsey Weber, and Justin Lin; and executive produced by Jeffrey Chernov, David Ellison, Dana Goldberg, and Tommy Harper. Based upon "Star Trek" created by Gene Roddenberry, the screenplay is written by Simon Pegg & Doug Jung.
"Our movie-goers continue to return to Regal L.A. LIVE: A Barco Innovation Center because we are able to deliver the highest quality product in the most immersive settings with technology like Barco Escape," said Shelby Russell, Vice President, Marketing, AEG & L.A. LIVE. "We know the opportunity to see Star Trek Beyond in Barco Escape is going to bring the audience's experience to the next level."
"Regal L.A. LIVE: A Barco Innovation Center debuted earlier this year as a one-of-a kind creative hub for all of Barco's cutting-edge cinema technology, including Barco Escape," said CEO of Barco Escape, Todd Hoddick. "We are thrilled for LA Live audiences to experience Star Trek Beyond in Barco Escape, which will significantly enhance the storytelling during some of the film's most pivotal and visually enticing moments."
Since debuting in fall 2014 with the hit movie "The Maze Runner," Barco has been working with today's top studios and filmmakers, including 20th Century Fox, J.J. Abrams' Bad Robot and Jerry Bruckheimer, to bring movies into this new format. Director Scott Waugh ("Act of Valor," "Need for Speed") recently announced he is directing the first feature shot entirely for Barco Escape. The film, titled "6 Below" and starring Josh Hartnett, will be released later this year.
Additional deals include: Cross Creek Pictures, the production company behind thrillers "Black Swan," "Everest," "Rush," and "Black Mass," has committed to go into development on a film in Barco Escape by 2017. Shanghai-based production and distribution company Fundamental Films will also distribute at least two titles in Escape. Announced at Cannes, Canadian producer Minds Eye Entertainment, in association with US-based Bridgegate Pictures and VMI Worldwide, has financed and greenlit a six-film production slate of sci-fi, action and thriller films that will all be shot for Barco Escape.
To purchase tickets to watch "Star Trek Beyond" in Barco Escape, visit lalive.com/barco
About Barco
Barco, a global technology company, designs and develops networked visualization products for the Entertainment, Enterprise and Healthcare markets. Barco has its own facilities for Sales & Marketing, Customer Support, R&D and Manufacturing in Europe, North America and APAC. Barco (NYSE Euronext Brussels: BAR) is active in more than 90 countries with 3,300 employees worldwide. Barco posted sales of 1.029 billion euro in 2015.
About Regal L.A. LIVE: A Barco Innovation Center
Regal L.A. LIVE: A Barco Innovation Center offers the premiere movie theater experience in the heart of the entertainment industry, Los Angeles. Regal L.A. LIVE: A Barco Innovation Center is home to the latest in Barco's cinema technology including Flagship Laser Projectors, Barco Escape, Barco Lobby Experience and Auro immersive sound. The 800-seat Premiere House features the giant 70-foot screen showcasing numerous red carpet world premieres. In addition to hosting over 200 film festivals and events throughout the year, the theater is also home to the first 4DX auditorium in North America. Regal L.A. LIVE: A Barco Innovation Center is the preferred destination for movie industry leaders and moviegoers alike.
Host a Private Event
L.A. LIVE is the perfect place for your group meetings, party or convention. Choose from many elegant spaces.
Learn More