'Queen of Katwe' at Regal L.A. LIVE: A Barco Innovation Center
by laliveinsider on Thu., Sep 01 at 09:29 AM
FREE POPCORN OFFER:
Watch Queen of Katwe 9/23-9/25 and get a free small popcorn!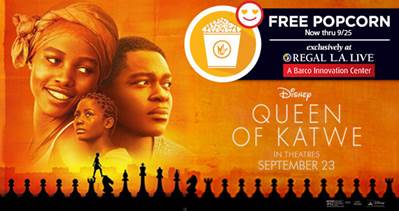 Offer Details: Valid Friday Sep 23 – Thursday Sep 29. One free small popcorn per ticket purchased to Queen of Katwe during the time period. Not exclusive to RCC members. Popcorn vouchers handed out at box office when guests purchase tickets. If tickets are purchased online, guests can visit the guest service desk to obtain popcorn voucher.
SHE OVERCAME ADVERSITY AND INSPIRED A NATION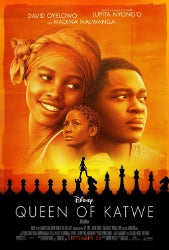 Queen of Katwe is the true story of a young Ugandan girl whose world rapidly changes when she is introduced to the game of chess, and, as a result of the support from her family and community, pursues her dream of becoming an international chess champion. An adaptation of the 2012 acclaimed book "The Queen of Katwe: One Girl's Triumphant Path to Becoming a Chess Champion," the story centers on Phiona Mutesi (newcomer Madina Nalwanga), an international chess sensation who hails from the slums of Uganda. When she is nine-years-old, Phiona meets Robert Katende (David Oyelowo), a refugee and missionary who seeks to empower children by teaching them to play chess. With Robert and her community's support, Phiona becomes a major contender on the chess scene, and dreams of becoming a Grandmaster, the highest level of achievement in chess. Oscar-winner Lupita Nyong'o (12 Years a Slave) plays Harriet, Phiona's mother.
LIMITED RELEASE! 1 of 7 locations in Los Angeles to show it starting September 23rd (opens everywhere September 30th)
Groups of 10 or more save $2 per ticket only by calling 1 (877) 234-8425
Movie Trailer
Host a Private Event
L.A. LIVE is the perfect place for your group meetings, party or convention. Choose from many elegant spaces.
Learn More