Calling all pizza lovers! Deep-dish style pizza is no longer a Chicago thing - it has arrived at L.A. LIVE and we are happy it did! Patxi's Pizza offers a variety of great food selections from different types of pizza, to sandwiches, refreshing salads, and much more. We've listed our top 5 must-try items below!
The Favorite Deep Dish Pizza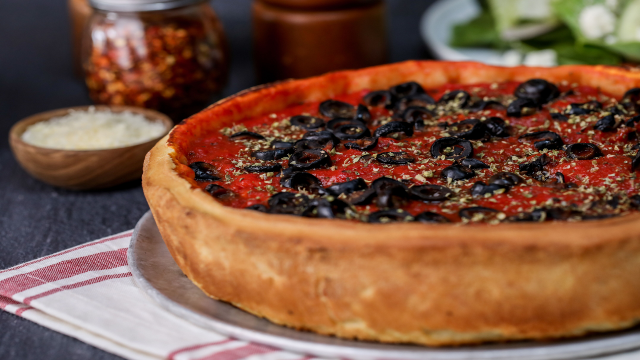 Patxi's signature deep dish pizza is at the top of our list and there's a reason why! Made with the highest-quality ingredients from scratch dough, homemade tomato sauce, and extra cheesy mozzarella. Create your own or choose from their various pie options, such as our go-to, the Favorite – made with pepperoni, fresh mushrooms, and black olives. Is your mouth watering yet? Not a fan of deep-dish pizza? No worries, Patxi's offers Neapolitan pizzas as well, that are light, crispy, and just as delicious!
The Italian Sandwich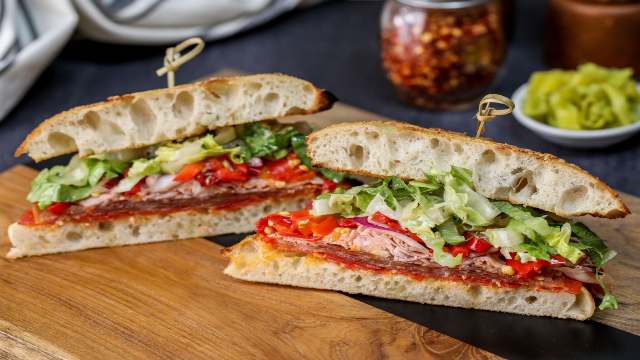 Sometimes a simple sandwich sounds quick, easy, and delicious. However, at Patxi's, sandwiches are far from simple. Our go-to, The Italian, is a top contender stacked high with pepperoni, prosciutto cotto, salami, roasted red peppers, roasted garlic vinaigrette, romaine, and red onion – all on a delicious parmesan herb focaccia. Talk about love at first bite!
Patxi's Insalata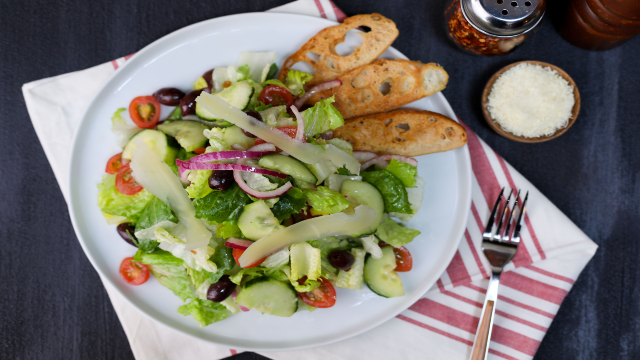 Craving something light? Try Patxi's Insalata, made with a chopped romaine iceberg blend, tomatoes, cucumbers, red onion, kalamata olives, crostinis, parmesan and sherry vinaigrette. Light, refreshing, and guilt free! After all, it IS the New Year and we want you to keep up with your resolutions.
Whole Hog Piadina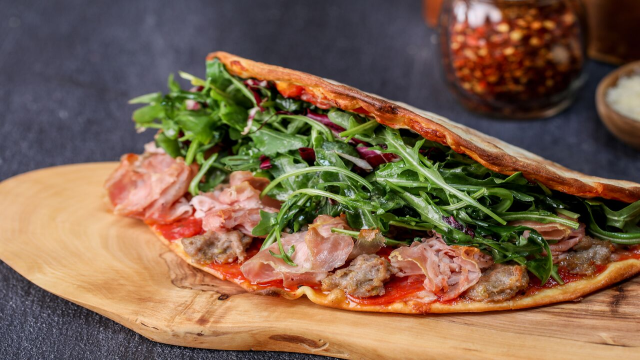 So, you want pizza AND a sandwich – how about a Piadina? Piadina's are Italian flatbread sandwiches, or as we like to describe it - the perfect crossover between a pizza and a sandwich. Made with pepperoni, garlic-fennel sausage, prosciutto cotto, homemade tomato sauce, mozzarella, arugula, radicchio, extra virgin olive oil and lemon on their homemade piadina crust. Is it a folded pizza or a sandwich? You decide!
S'mores Pizza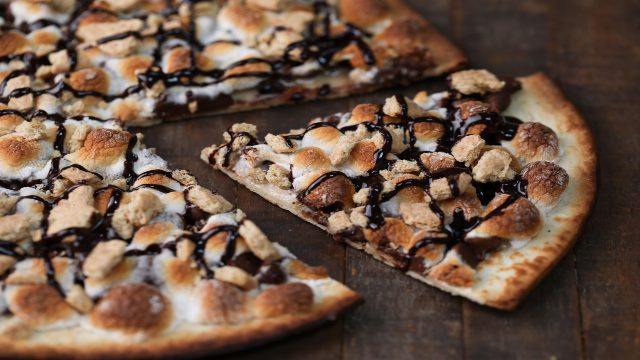 Who's ready for dessert? You're going to want to save some room and try Patxi's S'mores Pizza. Yes, you read that right, dessert pizza! The S'mores Pizza takes on the classic s'mores with toasted marshmallows, milk chocolate, and graham cracker crunch. Trust us, after one bite, you're definitely going to want s'more!
Are you hungry yet? Come and try these Patxi's Pizza favorites and don't forget to take advantage of the free lunchtime parking on weekdays from 11am-2pm! Pizza, free parking, and a whole lot of deliciousness. Doesn't get better than that!
For more on Patxi's and to see the full menu click here.
Host a Private Event
L.A. LIVE is the perfect place for your group meetings, party or convention. Choose from many elegant spaces.
Learn More