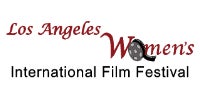 Contact: Kelly Hargraves
323-493-1548; [email protected]
2016 Los Angeles Women's International Film Festival
Regal Cinemas L.A. LIVE
March 24-27, 2016
BURBANK, Calif., March 7, 2016 -- The 12th annual Los Angeles Women's International Film Festival will open on Thursday March 24, 2016 at the Regal Cinemas L.A. Live in Downtown Los Angeles with a Gala and Benefit Screening. The four-day festival will present over 45 films made by women at daily screenings until March 27, 2016.
Founded in 2004 by the Alliance of Women Filmmakers, the Los Angeles Women's International Film Festival serves as a platform for women filmmakers worldwide to share their unique stories and cultural experiences with Los Angeles' diverse audience. The festival's programming reflects Alliance of Women Filmmakers' mission to educate and inform audiences of social, political, and health issues impacting women globally.
The 2016 festival will present films from 14 countries including: Australia, Canada, China, Fiji, India, Italy, Japan, Liberia, New Zealand, Philippines, South Africa, Thailand, United Kingdom and USA.
Each year, the festival partners with an organization that serves women to help generate awareness and raise money in support of women's causes. For 2016 AWF has partnered with Dress For Success Worldwide-West. A clothing drive will be held throughout the festival and $1 of each ticket sold will be donated to the organization.
The Opening Night Gala will include the Screening of Despite the Falling Snow, a feature directed by British author and filmmaker Shamim Sarif (http://www.imdb.com/name/nm2328765/). Presented by­­­­ Mount Saint Mary's University, the screening will begin at 8:00 pm followed by a conversation with the filmmakers and a gala reception.
Despite the Falling Snow is a Cold War drama starring Rebecca Ferguson (Mission Impossible: Rogue Nation) and Charles Dance, which will be released theatrically in the UK in April 2016 with Altitude Distribution.
https://www.youtube.com/watch?v=MKvPYjZGmCU
The evening will also include a 6:30 pm screening of A Single Step, presented by Voice of America. Narrated by Sally Field, the doc is inspired by the pivotal Fourth World Conference on Women held in Beijing, and explores leadership roles of women from around the world.
The Centerpiece Screening of CodeGirl, directed by Lesley Chilcott (http://www.imdb.com/name/nm2026261/) reflects the festivals focus on Women in Technology. The screening will be held March 26, 2016 6:00 pm and be followed by a Women of Warner STEM panel, moderated by Julie Ann Crommett of Google and presented by Women of Warnerbros.
A thrilling, heartfelt documentary CodeGirl, follows high school-aged girls from around the world as they try to better their community through technology and collaboration. From rural Moldova to urban Brazil to suburban Massachusetts, CODEGIRL follows teams who dream of holding their own in the worlds fastest-growing industry. The winning team gets $10K to complete and release their app,, but every girl discovers something valuable along the way.
The Closing Night Film, Posthumous, directed by Lulu Wang, (http://www.imdb.com/name/nm2304675/?ref_=fn_al_nm_1) is a modern-day fairy tale that centers on a struggling artist whose artwork skyrockets in value when he is mistakenly thought to have killed himself. The artist decides to keep up the charade by pretending to be his own brother, but the entire plan is put in jeopardy when he befriends a charming, resourceful reporter and they begin to show each other the true value of life, art and love.
Screening Sunday, March 27th at 8:30pm
The festival will also include nine separate programs throughout the four day event, with feature films, six shorts programs, a focus on documentaries, and Filipino cinema, amongst other events.
A Summary is below. The full program Guide can be found here: http://www.lawomensfest.com/guide.php
About Los Angeles Women's International Film Festival
The festival is produced by Alliance of Women Filmmakers, an organization established to empower women filmmakers to create diverse roles for women as well as increase exposure for women causes. Each year in March, the festival showcases narratives, documentaries, animation and student short films made by women. In addition to providing women a platform to share their unique stories, the festival serves as a fundraiser for women causes.
For more information about Los Angeles Women's International Film Festival please visit www.lawomensfest.com.
About Dress For Success Worldwide - West
Dress for Success Worldwide – West is a 501(c)(3) not-for-profit organization, dedicated to promoting the economic independence of disadvantaged women by providing professional attire, a network of support and the career development tools needed to help women thrive in work and in life.
For more information about Dress For Success Worldwide-West please visit https://worldwidewest.dressforsuccess.org/
Host a Private Event
L.A. LIVE is the perfect place for your group meetings, party or convention. Choose from many elegant spaces.
Learn More