L.A. LIVE IS BRINGING BACK DOWNTOWN DARK NIGHTS THIS MONTH!
by laliveinsider on Tue., May 02 at 11:03 AM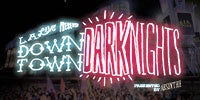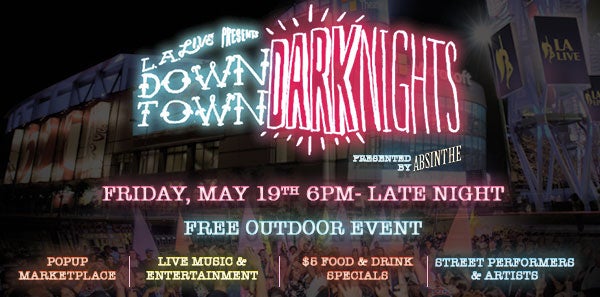 Back by popular demand, L.A. LIVE will once again host downtown Los Angeles' most exciting event, Downtown Dark Nights, on Friday, May 19!
Downtown Dark Nights, a free outdoor community celebration for everyone that lives and works in Downtown Los Angeles, transforms L.A. LIVE into a "Happy Hour" style celebration featuring $5 food and drink menus until 10PM at participating L.A. LIVE restaurants along with free live entertainment throughout the district. Downtown Dark Nights will feature hit cover band Weekend Celebrity and DJ Francesca Harding along with live performers like stilt walkers, street dancers, cirque performers and mural artists, such as James Wilde XO, Evol, and Phobik, plus a popup marketplace. The marketplace at Downtown Dark Nights will feature vendors selling handcrafted goods and fine art, including Shay Candles, Cowpunk Leather, Eddy Lee Art and more.
Participating L.A. LIVE restaurants that will feature the $5 food and drink menus include Katsuya, Cleo, Rock'N Fish, Red Mango, Rosa Mexicano, Tom's Urban, Smashburger, Live Basil, Lawry's Carvery, Wolfgang Puck Bar & Grill, Triple 8, Ford's Filling Station, The Mixing Room and Fleming's Prime Steakhouse & Wine Bar.
Plus, the hit show Absinthe L.A. featuring raunchy, sexy and funny circus acts will have two show times at 7:30pm and 9:30pm in the Spiegelworld tent right across the street at L.A. LIVE. Dark Night attendees can save 40% off tickets.
For more information about Dark Nights and Absinthe L.A. tickets, please visit lalive.com/darknights.
WHERE:
L.A. LIVE
800 W. Olympic Blvd.
Los Angeles, 90015
WHEN:
Friday, May 19
6PM until 10PM
MORE: Highlight video from the last Dark Nights
MEDIA CONTACTS:
Michael Roth Cassandra Zebisch
(213) 742-7155 (213) 763-7712
mroth@aegworldwide.com czebisch@aegworldwide.com
Allegra Batista | Communications Coordinator
AEG | 800 West Olympic Blvd., Suite 305 | Los Angeles, CA 90015
abatista@aegworldwide.com | o.(213) 763-7738 | c. (213) 259-9953
Host a Private Event
L.A. LIVE is the perfect place for your group meetings, party or convention. Choose from many elegant spaces.
Learn More