L.A. LIVE HOSTS DOWNTOWN DARK NIGHTS & POP UP MARKETPLACE THIS MAY
by laliveinsider on Wed., May 06 at 10:18 AM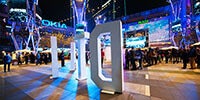 WHAT: Back by popular demand, L.A. LIVE will once again host two of downtown Los Angeles' most exciting special events when Downtown Dark Nights and POPUP Marketplacereturn this month!
Downtown Dark Nights (May 15), a local community celebration for the people that live and work in Downtown Los Angeles transforms L.A. LIVE into a "Happy Hour" style celebration featuring $5 food and drink menus until 10PM from participating L.A. LIVE restaurants and includes live entertainment throughout L.A. LIVE. Downtown Dark Nightswill feature DJ Anthony Valadez from KCRW along with live music, live performers and live artists such as Vyal One, Annie Preece and James Wilde, plus a curated artisan marketplace. The marketplace at Downtown Dark Nights will feature vendors selling handcrafted goods and fine art, including Big Squeeze Press, Downtown Muse Photography, DejaVita Jewelry, The Fenix, Cowpunk Leather, HumanTreeRobot, Arts District Printing Co., Roots Revival Co., The Tin Man, Church of Type, London Manori, Pop &Timber, Fox Force Three, and SoCal Etsy Guild.
POPUP Marketplace (May 20), taking place throughout the sports and entertainment district of L.A. LIVE and creates an evening celebrating and shopping all things local and handmade. POPUP Marketplace craft fair will feature live music and DJs as guests shop from booth to booth under the stars. There will be a wide variety of handcrafted goods and art for sale. Participating vendors to be announced soon. In addition to the marketplace vendors, all participating restaurants will also feature a special $5 food and drink menu until 10 p.m.
L.A. LIVE will also offer guests $10 parking in the West Garage via Gate B for both Downtown Dark Nights and POPUP Marketplace.
Participating L.A. LIVE restaurants that will feature the Downtown Dark Nights & POPUP Marketplace $5 food and drink menus include Katsuya, Rock'N Fish, The Farm of Beverly Hills, Red Mango, Rosa Mexicano, Tom's Urban, Smashburger, Live Basil, Lawry's Carvery, Wolfgang Puck Bar & Grill, Ford's Filling Station and Fleming's Prime Steakhouse & Wine Bar.
For more information, please visit lalive.com/darknights and lalive.com/popup
WHERE:
L.A. LIVE
800 W. Olympic Blvd. Los Angeles, 90015
WHEN:
DARK NIGHTS
Friday, May 15
6 p.m. until 10 p.m.
POPUP MARKETPLACE
Wednesday, May 20
5 p.m. until 10 p.m.
Media Contacts:
Michael Roth Cassandra Zebisch
(213) 742-7155 (213) 763-7712
[email protected] [email protected]
Host a Private Event
L.A. LIVE is the perfect place for your group meetings, party or convention. Choose from many elegant spaces.
Learn More