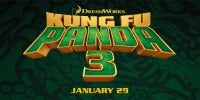 Kung Fu Panda is BACK! Let's have a look at a sneak peak with 4DX highlight moments!
Welcome to Panda's Cute and Adorable World with 4DX!
You can't miss this perfect chance to experience Kung Fu Panda's colorful world vividly! Audiences will be overwhelmed with the cuteness, his kung fu is elaborated by motion chairs rolling back and forth, with a series of vibrations when baby pandas fall down. And here's more: as Po faces off against Kai, a supernatural villain, the audiences in 4DX auditoriums will be drawn into the movie by strong wind effects and lightning.
Have Fun with 4DX!
Get ready for 4DX effects that double the funny moments. As Po tries to describe something with a map unfolded, baby pandas lose their patience and begin to eat anything in front of them. You can't help but laugh. This is not all! When the characters can't help feeling a sense of panic when Kai appears in front of them, bumping vibrations are implemented to amplify the scene.
Be a True Friend in Po's Journey
With 4DX, it's possible to follow Po everywhere he goes. With detailed 4DX effects, perfectly synced of the movie you'll cheer Po on so that he can finish his journey successfully!
Po is waiting for you in the 4DX auditorium! Come and experience the fun with our cutest friend, Kung Fu Panda!
Host a Private Event
L.A. LIVE is the perfect place for your group meetings, party or convention. Choose from many elegant spaces.
Learn More