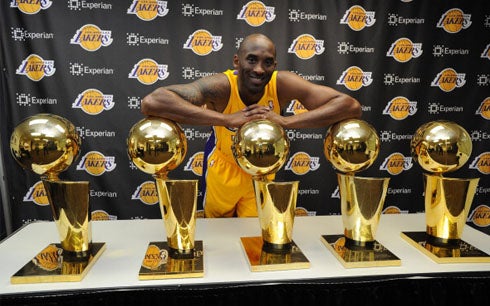 April 2016 will cap a 20 season career for one of basketball's greatest players of all time. Whether you're a Laker die-hard or saw him as a villian, its undeniable that Kobe Bryant's contributions to the game in the past two decades will forever be remembered. Here's Kobe's best career moments for Number 24.
1997: SLAM DUNK CHAMPION
Kobe's rookie year started off on a high note by taking home the Slam Dunk title in the NBA All-Star game. Here is where he put his stamp on the league to show he was the future and here to stay. He also remains as the only Laker to win the dunk contest.
1997: Kobe vs. Jordan
Kobe vs. Jordan. Need we say more?
2000: WINS 1ST NBA CHAMPIONSHIP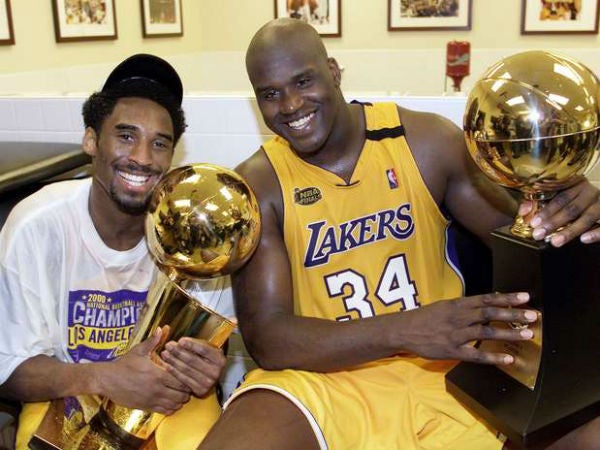 In a brand new STAPLES Center, Kobe won his first NBA championship alongside superstar teammate, Shaq. This began a league-wide alert that this dangerous duo would be a force to be reckoned with for the foreseable future.
2001: WINS BACK-TO-BACK TITLES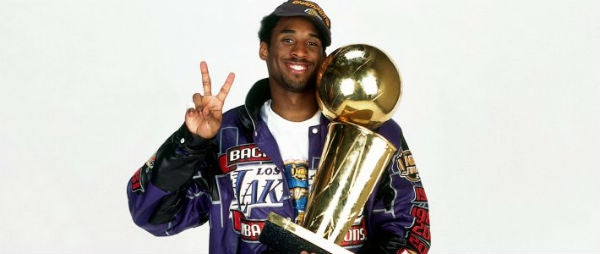 Kobe and the Lakers came back stronger than ever to defend their title and nearly set an NBA record for clean sweep throughout the playoffs. Winning back-to-back championships proved to be an easy one, losing just one game and finishing with a 15-1 playoff record.
2002: FIRST ALL-STAR MVP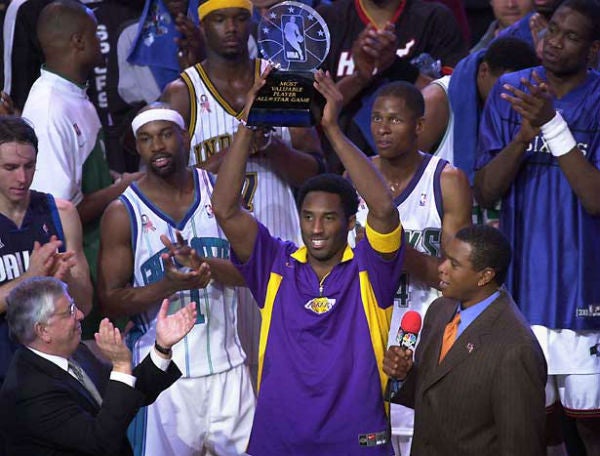 Kobe Bryant returned to his hometown of Philadelphia and put on a show at the 2002 All-Star Game. Bryant had 31 points, five rebounds and five steals to win his first All-Star Game MVP award.
2002: THREE-PEAT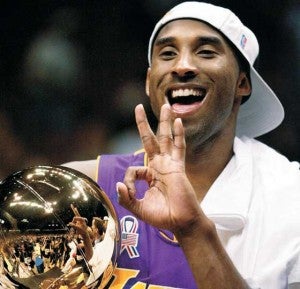 Kobe helped the Lakers win three straight championships, becoming just the 3rd organization in history to do so. This run of titles cemented their dynasty and the phrase "Three-peat" came back to life.
2003: 12 3 POINTERS IN ONE GAME
Kobe recorded 2 NBA records on this night. One for most 3-pointers in a game (12) and most 3-pointers in a row (9). From this game on, Kobe started hitting threes in a Kobe way fashion - fadeways threes, 4 feet behind the arc, etc. All things we have grown to love.
2004: SCORES 40+ POINTS IN NINE STRAIGHT GAMES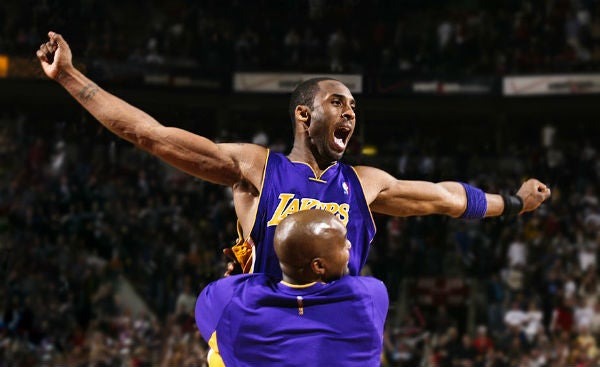 Scoring 40+ points in nine straight games. Who else can do that? Kobe was arguably the best player in the league at this time and went on to win the scoring title.
2006: 81 POINTS
Imagine a real-life video game. Kobe was shooting lights-out in this game and went on to record the 2nd largest scoring performance by a single player with 81 points. If you missed this game, the video above is 81 reasons to watch.
2007: SECOND ALL-STAR MVP
Lady Luck was on Kobe's side at the 2007 All-Star Game in Las Vegas as he tallied 31 points, five rebounds and six assists on his way to win his second All-Star Game MVP Award.
2008: OLYMPIC GOLD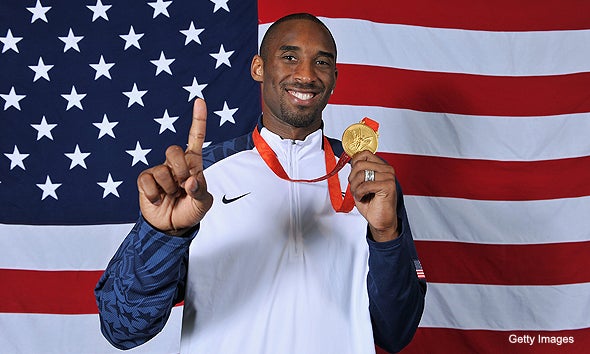 Kobe had 13 points and two assists in the fourth quarter as Team USA survived a gritty, determined performance by Spain to take home the gold medal for Team USA. Kobe Bryant: American Hero!
2008: NBA MVP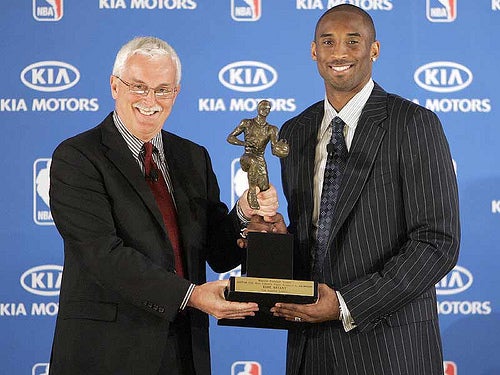 Kobe rose to the top this year winning his first NBA MVP award and leading his team to the best record in the West and all the way to the 2008 NBA Finals.
2009: THIRD ALL-STAR MVP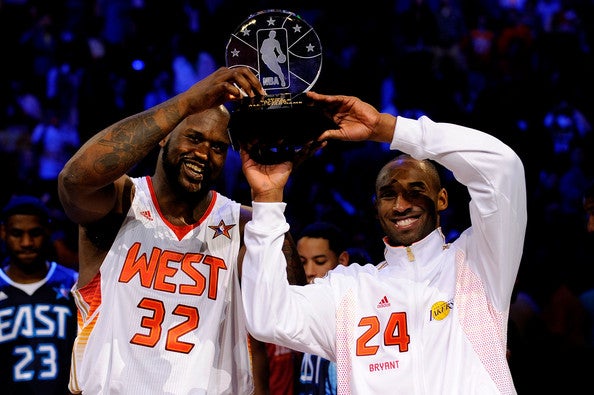 Kobe returned to glory with a familar counterpart from earlier in his career as he won Co-MVP with Shaq and took home his 3rd All-Star MVP Award.
2009: BACK ON TOP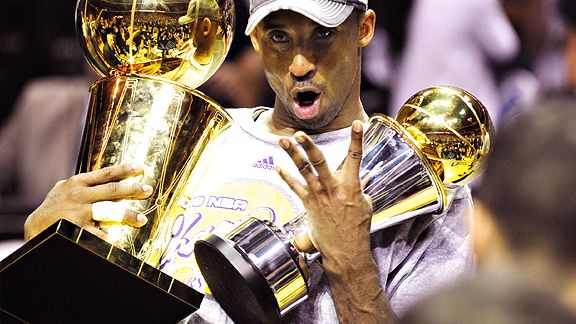 A year after losing in the NBA Finals, the Lakers bounced right back and Kobe won his 4th championship. It was the first time Kobe won a title and the Finals MVP trophy without Shaq, knocking a huge personal weight off his shoulder.
2010: BACK-TO-BACK ONCE AGAIN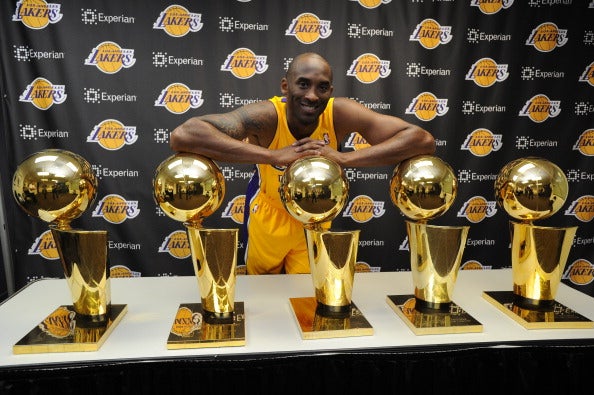 Another back-to-back title run for Kobe and the Lakers. This marked Kobe's 5th championship and his most special as it was a classic head-to-head Game 7 win against their archrival, Boston Celtics.
2011: FOURTH ALL-STAR MVP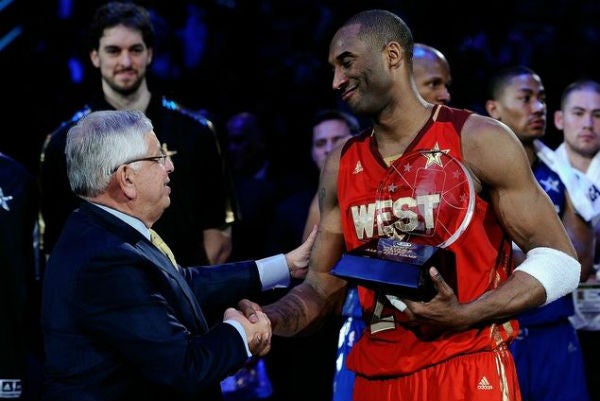 Kobe Bryant won his NBA record-tying fourth All-Star game MVP award to the delight of his hometown fans in Los Angeles, scoring 37 points and propelling the victory.
2012: TEAM USA: TWICE AS NICE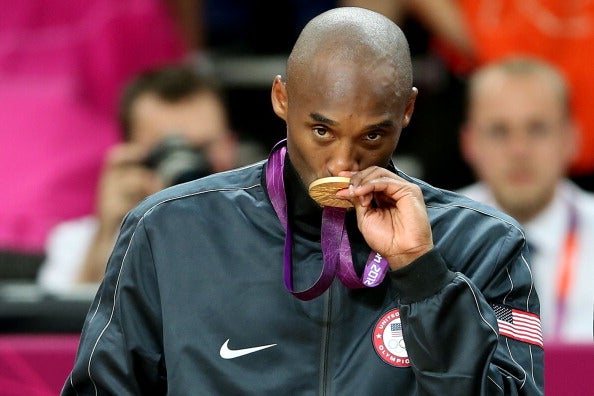 Kobe helps Team USA defend their gold winnings from 2008 and repeat as Olympic Gold winners at the 2012 Olympics. Nice way to finish out if this was Kobe's last Olympic run.
2013: HITS FREE THROWS WITH TORN ACHILLES
Kobe has had his share of broken bones and bruises, but tearing his achilles was the worst injury of his career and ultimately led to his decline. However, this game proved to show just how tough and competitive Kobe is, by hitting key free throws and walking on/off his own will.
2014: KOBE PASSES JORDAN
Kobe passed Michael Jordan (the player he has always been compared to) on the NBA's all-time scoring list. On this night, he became the 3rd highest scoring player EVER. It was only fitting that he accomplished this feat where the Laker organization began: Minnesota.
BONUS: KOBE JUMPS OVER A SPEEDING CAR
Must be the shoes!
BONUS X 2: KOBE JUMPS OVER A POOL OF BLACK MAMBAS
Now you know where he got the nickname!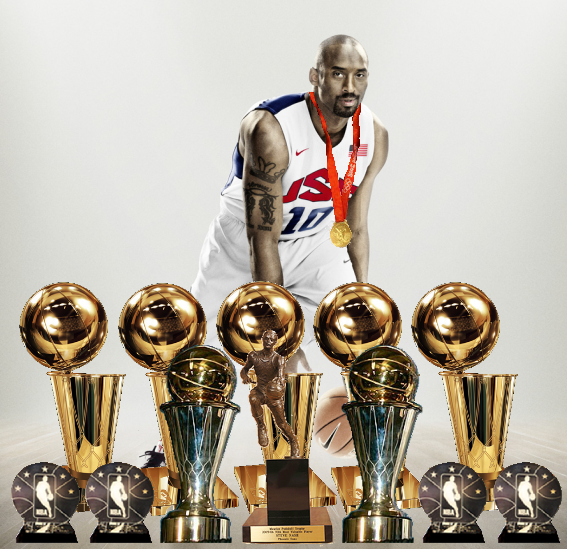 There's no question Kobe Bryant is one of the most accomplished players in NBA history and the basketball world will never be the same once he plays his final game. Heros are remembered, but legends never die!
Host a Private Event
L.A. LIVE is the perfect place for your group meetings, party or convention. Choose from many elegant spaces.
Learn More