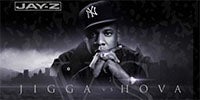 Jay-Z, or Shawn Carter, has been an influential figure in the music world for many years. Over the course of the past 2 decades he has earned several nicknames. How did they come about and what do they mean? Let's take a closer look.
"Jazzy"
Around his neighborhood Shawn became known as Jazzy -- a reference, he says, to the way he carried himself. "Like an older guy, like an older spirit," he said. He gained a local following after he started selling his own records out of his car. In 1996 he launched his own label, Roc-A-Fella Records, and Jay-Z (a play on Jazzy, which he adopted after the former nickname started to feel "too glittery") was on his way.
"Hova"
Hova, short for J-Hova, is a play on the word Jehovah, the Hebrew word for God. Jay-Z has called himself the "god" of rap. In his "Rhyme No More" he states, "They call me J-Hova cause the flow is religious."
"Jigga"
When Jay-Z was 16 he saw the movie "Back to the Future" being filmed. The director, after seeing a typo in the script, asked the crowd what the real word was for 1 billion watts. Jay-Z mistakingly said "jiggawatt" instead of gigawatt. After that his mother started calling him Jiggawatt or Jigga for short. The neighborhood kids found out about it and it became his nickname around the hood.
Host a Private Event
L.A. LIVE is the perfect place for your group meetings, party or convention. Choose from many elegant spaces.
Learn More