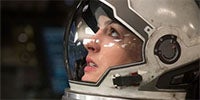 An Incredible Space Epic
Worth Experiencing, Not Just Watching
For this much-anticipated space epic, 4DX focused solely on delivering highly calibrated motion effects to give you the audience the full immersion into the film.
"Interstellar's" scenes set in outer space are vast, gorgeous and all-encompassing, and a 4DX auditorium will transport you to the next dimension!

Experience the Film in 4DX
You will forget that you are sitting inside a movie theater. The subtle gliding of the seats mimics the weightless motion of zero gravity. The vibrations emanating from the motion chairs internalize the exciting aeronautic experience and space technologies featured in the film to simulate travel through space. And then there are the unexpected jolts which will excite the thrill-seeking 4DX movie-goer looking for a gripping new movie experience.

Into the Theater and out of This World!
Leading a space mission to another galaxy to find a hospitable planet for humanity, Cooper's spacecraft tosses and turns on the raging waves of a strange environment, you will feel like you too are at the mercy of the roaring waters sweeping across the screen.

Entering the Wormhole
When the Endurance, Cooper's spacecraft, travels through a wormhole, 4DX motion chairs judder and shake re-creating a sense of space adventure. Myriad combinations of motions and vibrations are expertly synchronized with each moment of the wormhole scenes to deliver a true immersion into the adventure out to the unknown.
If your choice is "Interstellar" in 4DX, you will find yourself traveling through space sitting next to our heroes, lost in the vastness and experiencing the deeply emotional charge of this satisfying film.
Now, are you ready to embark on the Endurance?
Host a Private Event
L.A. LIVE is the perfect place for your group meetings, party or convention. Choose from many elegant spaces.
Learn More