L.A. LIVE is ready to roll out the red carpet for you! At the most entertaining place on the planet, you can have your next holiday party! Featuring over 4 million square feet of unparalleled event space, first-class catering, and world famous backdrops, we can create a fully customizable entertainment experience just for you.
Become the Entertainment
L.A. LIVE is the most entertaining place on the planet, hosting the biggest award shows, parties, live events, and red carpet events. Our experienced Event Team will take the stress away from your planning. Our dedicated team will collaborate with you to create a world-class holiday party you won't soon forget.
In the Heart of Los Angeles
In the heart of downtown and steps from the Los Angeles Convention Center, L.A. LIVE welcomes over 20 million annual visitors and makes 100 billion worldwide annual media impressions with our 1,600+ annual events. The most famous city on the West Coast is also less than 20 miles from LAX, and is easily accessible from several major freeways and from a variety of public transportation options.
Dine in Style
While our venues create the perfect destination for entertaining, you can't have a party without food and drinks! Whether you decide to have an outside dining experience at one of our 20+ restaurants on campus or in-venue catering, we have the food and drinks that will tickle your tastebuds.
Just as our A-list guests, your event can be catered through our exclusive partner*, Wolfgang Puck. Wolfgang Puck Catering sets the standard for catering and event planning, providing award-winning restaurant-quality cuisine, flawless service and creative flair, perfectly matched to the occasion.
*Wolfgang Puck caters the Event Deck, Chick Hearn Court, Microsoft Square, The Terrace at L.A. LIVE, GRAMMY Museum, the NOVO, Regal L.A. LIVE: A Barco Innovation Center, Microsoft Theater and Conga Room.
One-of-a-Kind Venues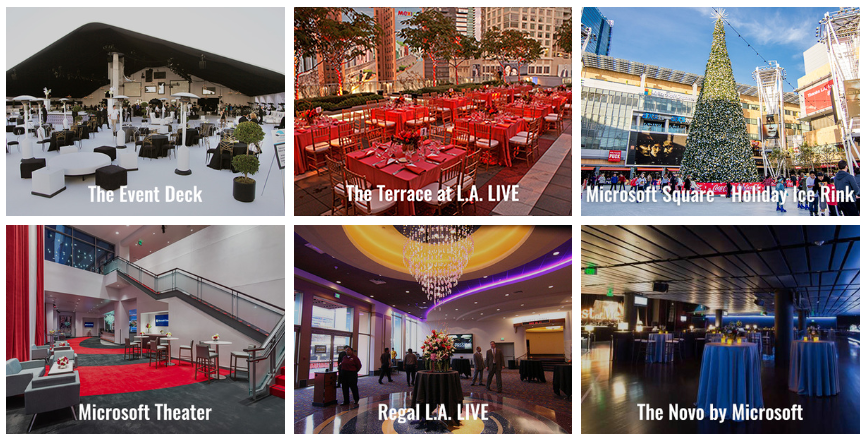 Host a Private Event
L.A. LIVE is the perfect place for your group meetings, party or convention. Choose from many elegant spaces.
Learn More