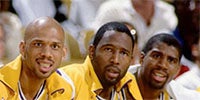 Fact: There is no "I" in TEAM. No one athlete can be successful in team competition without at least a notable sidekick, forming what is known as a dynamic duo. However, even a dynamic duo can be beaten; it takes a TRIO to be great and remembered. Let's take a look at the best sports trios ever formed.
Troy Aikman, Michael Irvin and Emmitt Smith
Tim Duncan, Manu Ginobili and Tony Parker
Wayne Gretzky, Jari Kurri and Mark Messier
Larry Bird, Robert Parish and Kevin McHale
Greg Maddux, Tom Glavine and John Smoltz
Michael Jordan, Scottie Pippen and Dennis Rodman
Joe Montana, Jerry Rice and Roger Craig
Magic Johnson, Kareem Abdul-Jabbar and James Worthy
Now it's your turn to add yourself to the sports trio legacy! The Nike Basketball 3ON3 Tournament takes place at L.A. LIVE August 8-10. Gather your trio together and win it all like the great trios above. Register today and play!
Host a Private Event
L.A. LIVE is the perfect place for your group meetings, party or convention. Choose from many elegant spaces.
Learn More