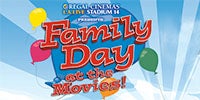 THIS SATURDAY AUGUST 3rd TO CELEBRATE
THE OPENING OF THE SMURFS 2
APPEARENCES BY THE SMURFS, FREE MAGIC SHOW, FACE PAINTING,
BALLOON ART AND OTHER FAMILY ACTIVITIES TO ENJOY!
WHAT:
Regal Cinemas L.A. LIVE Stadium 14 will be hosting Family Day at the Movies featuring The Smurfs 2 in downtown Los Angeles this Saturday. The lobby of Regal Cinemas L.A. LIVE will be transformed into a "Family Town" for ultimate family fun.
Families will have the opportunity to enjoy several free activities including a magic show, face painting, balloon art, a red carpet photo op with The Smurfs and more! The Smurfs will make an appearance and pose for photos. All the activities will take place in the main lobby, just below the grand staircase. Come paint the town blue with us and discover all the surprises in store at this fun family event featuring The Smurfs 2!
Family Day activities are free and open to the public. To reserve you movie ticket or get more information: Follow L.A. LIVE on Twitter at @LALIVE or visit lalive.com/familyday.
Family Day kicks off with Smurfs 2, with upcoming Family Days on Saturday, August 10 with Planes, Saturday, September 28 with Cloudy with a Chance of Meatballs 2 and Saturday, December 21 with Walking with Dinosaurs.
WHERE:
Regal Cinemas L.A. LIVE Stadium 14
1000 W. Olympic Blvd.
Los Angeles, Ca
WHEN:
Saturday, August 3
12 p.m. – 5 p.m.
About Regal Cinemas L.A. LIVE:
Regal Cinemas L.A. LIVE offers the premier movie theatre experience in Los Angeles. With stadium seating and digital projection in all 14 theatres, as well as 6RealD 3D screens, it provides the latest in technology to ensure every movie experience is the highest quality. The 803-seat Premiere House theatre is one of the largest stadium auditoriums in the United States. Complete with a 70-foot wide screen, the Premiere House makes every picture larger than life. Host of the LA Film Fest, Hollywood red carpets, and numerous world premieres, Regal Cinemas L.A. LIVE is the preferred destination for movie industry leaders to entertain and impress.
CONTACT:
Michael Roth
(213)742-7155
[email protected]
Cassie Zebisch
(213)763-7712
[email protected]
Host a Private Event
L.A. LIVE is the perfect place for your group meetings, party or convention. Choose from many elegant spaces.
Learn More