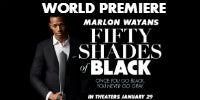 THE PREMIERE HOUSE AT REGAL CINEMAS L.A. LIVE WILL HOST THE RED CARPET WORLD PREMIERE OF 'FIFTY SHADES OF BLACK'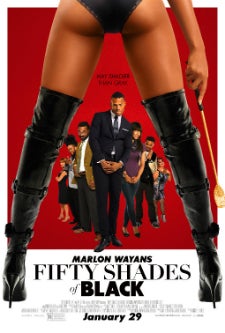 The Premiere House at Regal Cinemas L.A. LIVE will host the red carpet premiere of Open Road Films' 'Fifty Shades of Black' on Tuesday, January 26. Marlon Wayans takes on the role of Mr. Black in this hilarious comedy spoof of 'Fifty Shades of Grey'. Stars from the film expected to attend include Marlon Wayans, Kali Hawk, Affion Crockett, Fred Wayans, Mike Epps, Jane Seymour, Andrew Bachelor and Florence Henderson. Additional celebrity guests include Monique Coleman, Guillermo Diaz, Anders Holm, Russell Simmons and more.
"What if Christian Grey was black and he was rich but you kind of know how he got his money, it's kind of shady and he's a really bad lover? I mean it's kind of similar to the movie," Marlon Wayans said in an interview with NBC New York on June 5, 2015. "They had all these scenes and I was like, a funny version of this and a funny version of that and before you knew it we had a really funny script.
Open Road Films will release 'Fifty Shades of Black' on January 29, 2016.
Host a Private Event
L.A. LIVE is the perfect place for your group meetings, party or convention. Choose from many elegant spaces.
Learn More