This Fall, things are looking a little different than we're used to. But that won't stop us from pursuing all things cozy and pumpkin-spiced while we're spending more time at home or socially distanced from our loved ones. Check out how we'll be spending Fall in Los Angeles!
Cook At Home & Listen to a Great Playlist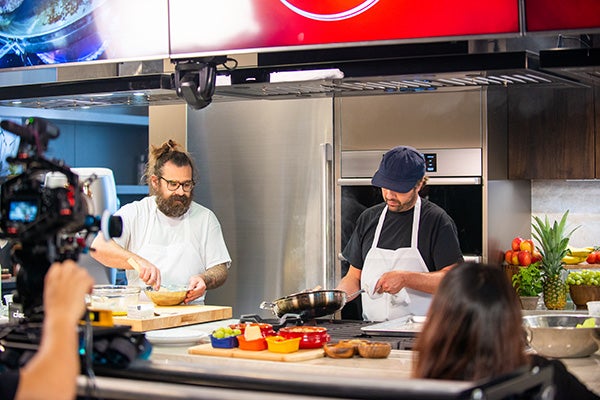 Did you miss the Lexus All-Star Chef Classic At Home live stream? Don't sweat it – you can relive the demos from Chefs Jon & Vinny, Ludo Lefebvre and Dominique Crenn and prepare their dishes at home. To set the mood, give our Fall playlist a listen!
» Watch the Chef Demos & Listen to the Playlist
Coffee Date
Luckily, the weather is still perfect in Los Angeles. Grab your favorite Fall or Holiday flavored coffee at Starbucks and a friend for a social distanced coffee date!
Make a Fall-Inspired Cocktail
What better to keep things warm and cozy than a little bit of whiskey? Try the Jameson Black Barrel Apple Cider Punch to take your at home happy hours to the next cozy level!
Movie Marathon
Fill up your weekend plans with a movie marathon! Order takeout from one of our go-to L.A. LIVE spots and get your Netflix queue ready. The best way to make use of the extra Daylight Savings hour is immersed in a movie universe!
We hope you find a cozy and fun way to spend this season of change!
Host a Private Event
L.A. LIVE is the perfect place for your group meetings, party or convention. Choose from many elegant spaces.
Learn More