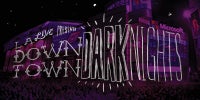 L.A. LIVE announces the return of Downtown Dark Nights, a free local community celebration for the people that live, work and "play" in Downtown Los Angeles. The "Happy Hour" style celebration will take place on Friday, June 3rd from 6:00 p.m. to 11:00 p.m.
Downtown Dark Nights will feature live music, local street performers, dance groups, live artists and an artisan street market with over 40 local vendors. Performers and entertainment includes DJ Francesca Harding, Mobile Mural Lab, the Blacklight King, Disco Shrine, Cellars, James Wilde XO, break dancers, special visual installations by Todd Moyer Designs, body painting by Nicolette Spear along with vendors London Manori, Paper & Fabric, Ichiban Bath Co., Shay Candles, Pop & Timber and so many more. Plus, TEAM LA, STAPLES Center's sports apparel headquarters, will have a huge sale featuring 40% off most items, including Lakers, Clippers and Kings merchandise.
"We chose the date of June 3rd specifically because there are no other major events scheduled at L.A. LIVE including STAPLES Center and Microsoft Theater, creating a rare "dark night" at L.A. LIVE," said Natalie Matsumoto, Director of Marketing, L.A. LIVE. "This makes it a perfect night to easily come to our L.A. LIVE restaurants to experience all that they have to offer and will be a great place for our downtown neighbors to unwind from the work week and kick off the weekend."
Participating L.A. LIVE restaurants will feature $5 food and drink menus until 10PM including Katsuya, Rock'N Fish, Red Mango, Rosa Mexicano, Tom's Urban, Smashburger, Live Basil Pizza, Lawry's Carvery, The Mixing Room, Wolfgang Puck Bar & Grill and Triple 8.
L.A. LIVE will also offer guests discounted $10 parking in the West Garage via Gate B. Visit lalive.com/DARKNIGHTS for the full entertainment lineup, restaurant menus and RSVP page on Facebook.
Where:
L.A. LIVE
800 W. Olympic Blvd.
Los Angeles, Ca 90015
When:
Friday, June 3
6 p.m. to 11 p.m.
Media Contacts:
Michael Roth Cassandra Zebisch
(213) 742-7155 (213) 763-7712
[email protected] [email protected]
Host a Private Event
L.A. LIVE is the perfect place for your group meetings, party or convention. Choose from many elegant spaces.
Learn More