Time to kick it in high gear and get ready for all those holiday parties. Whether you're hosting a cozy night in or a New Year's Eve party, we've got you covered with these do-it-yourself Absolut holiday drinks so you can impress your guests!
Hot Spiced Cider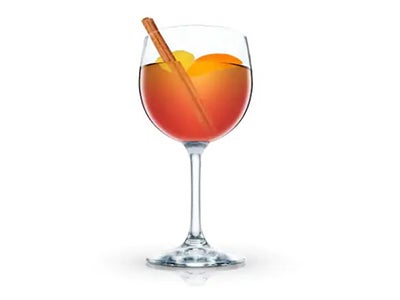 One of our favorites! The Hot Spiced Cider is made with 4 Parts Cider Hot, ½ Part Calvados, ½ Part Runny Honey and garnished with 1 slice of lemon and an orange and a cinnamon cane. This warm aroma will make your guests feel cozy on a chilly day.
Absolut Jingle Buck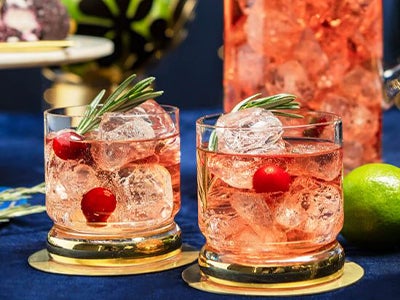 Just like Vodka Cran, but with that holiday sparkle. You can't go wrong with this simple but tasty drink. You just need 1 Part Absolut Vodka, ¾ Parts Cranberry Juice, ¾ Parts Lime Juice, and 2 Parts Ginger Ale. Add everything over ice, stir and garnish with two fresh cranberries and 1 rosemary sprig for that nice holiday touch!
Absolut Juice Apple Sangria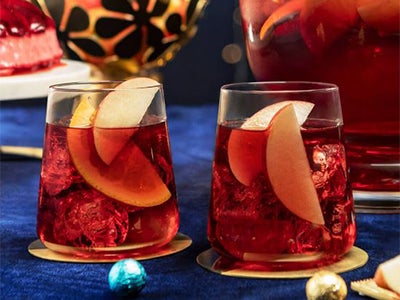 Wine-lovers! Say hello to sangria's seasonal sister- the Absolut Juice Apple Sangria. This is made with 1 and ½ Part Absolut Juice Apple, 2 Parts Red Wine, 4 dashes of Angostura Bitters, and ½ Part Triple Sec of Orange Liqueur. You can even serve in a punchbowl with ice, garnished with orange and apple slices!
Absolut Cinnamango Sour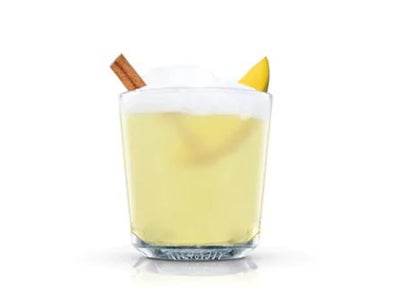 If you're in the mood for something on the sour side, try this Absolut Cinnamango Sour! All you need are some ice cubes, 1 and ½ Parts Absolut Mango, ¾ Part Lemon Juice, ¾ Part Simple Syrup, 1/3 Part Egg White, 1 Pinch of Cinnamon Mango and for that nice touch, a Cinnamon Cane.
Absolut Yule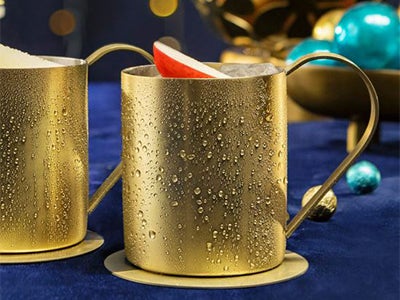 Think Moscow Mule, but festive. Make this with 1 Part Absolut Vodka, 1 Part Apple Cider, ½ Parts Lime Juice, and 2 Parts Ginger Beer. To add that holiday touch, don't forget to garnish your drink with an apple slice!
Absolut Jolly Jelly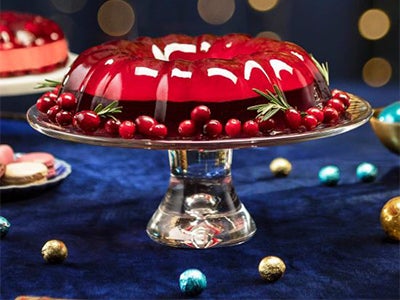 We're taking gelatin shots to a whole new level. If you want to go the extra mile, this is a must for the gram. Just use ½ Part Absolut Vodka, ½ Part Instant Gelatin, 1 Part Boiling Water, and ½ Part ice water. First, mix the instant gelatin with boiling water, add ice water and Absolut, pour into your fav mold and chill for 2 to 4 hours. This serves between 5 to 10 guests.
Now you're ready to put your skills to the test and impress your guests at your next holiday gathering! With so many different cocktail options, Absolut is also a great gift to give this holiday season. For gifts and holiday recipes, click here!
Host a Private Event
L.A. LIVE is the perfect place for your group meetings, party or convention. Choose from many elegant spaces.
Learn More