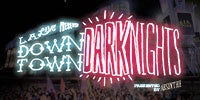 We'll be munching on some of the best bites that L.A. LIVE has to offer at the best prices we've ever seen, will you?
CLEO L.A. LIVE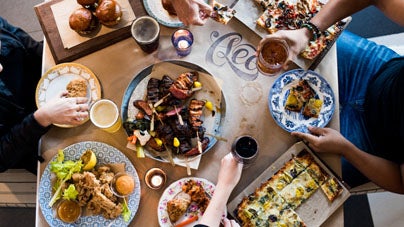 Crowd favorites like Cleo's Falafel and Chicken Shawarma at nearly half price?! We'll also be grabbing an order of Spicy Potatoes while we're at it. Paired with an ice-cold, $5 Draft Beer, this is a deal we won't be passing up!
ROCK'N FISH
If you're looking for ROCK'N savings, ROCK'N food and a ROCK'N time, you've found the place! With bites like Sweet Chile Calamari, Buffalo Chicken Sliders and Oak Grilled Artichoke offered at more than half off their menu prices, we can't believe this deal! If it seems too good to be true, don't worry, all you have to do is join us at Dark Nights for these exclusive prices and delicious bites!
SMASHBURGER
Are you looking for a classic, can't-go-wrong meal? Then look no further, because Smashburger is offering you the choice between small Chicken Tenders, a small Hot Dog, or a small Cheeseburger with fries and a fountain drink for only $5! This is truly a deal for everyone!
ROSA MEXICANO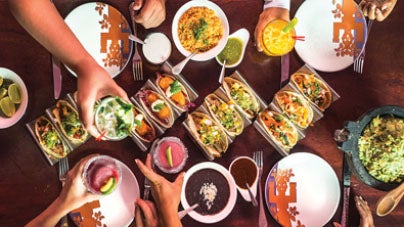 Nothing goes together quite like good company, tacos, and margaritas. At L.A. LIVE, we think nothing goes together better than good company, $5 taco deals, and a $5 margarita! Grab your friends and head to Rosa Mexicano during Dark Nights for a wide variety of taco specials, quesadillas, and sides, all $5 each. Don't forget about $5 margaritas, select glasses of wine, and select beers.
LAWRY'S CARVERY
You'll want to stop here and grab a half sandwich and chips for HALF Lawry's usual price! Yes, you read that correctly. Signature sides like Creamed Corn, Buttered Broccoli or Mashed potatoes paired with a Fountain Soda will only cost you $5, or if you're feeling a little sweeter, Bread Pudding with Coffee is only $5.
TOM'S URBAN
With names like Not-Your-Boring-Beef-Chili, Tom's Urban's dishes will not disappoint! And with such diverse choices like Wok Charred Edamame, Angel's Housemade Mole and Fried Pickles, there is something for everyone on the menu! And if the $5 food wasn't enough to convince you, the $5 Fig Street Cooler will seal the deal.
TRIPLE 8 CHINA BAR & GRILL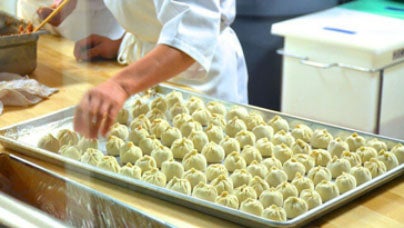 With a menu that has Pork Xiao Long Bao, Crab Wontons, Crispy Pepper Calamari, Brussel Sprouts, and Tempura Vegetables for just $5 each, you'll want to grab one of everything. With all the money you'd be saving compared to regular menu price, you can buy yourself AND two friends a select glass of wine or draft beers on the exclusive Dark Nights menu!
WOLFGANG PUCK BAR & GRILL
Wolfgang Puck Bar & Grill combines a world-renowned chef, modern design, and killer deals on delicious food all at Downtown Dark Nights! Wolfgang Puck's menu offers Street Corn and Skewers to get you into the marketplace spirit. If you're feeling more like a Roasted Tomato Cheese Pizza or Sweet & Spicy Chicken Wings, don't forget to pair it with a $5 glass of wine or $5 beer.
KATSUYA

Master Sushi Chef Katsuya Uechi agrees, the Crispy Rice with Spicy Tuna is a can't miss. Katsuya's most flavorful and famous dish, at $5, instead of $14, is unbelievable! If you're feeling daring, try the Shishito Peppers, and cool off with a glass of wine or draft beer for only $5.
LIVE BASIL PIZZA
Do the artists and vendors at Dark Nights have you feeling creative? Stop by Live Basil Pizza to create your own pizza and pair it with a fountain drink for only $5. We believe that building a pizza is a delicious art form, so express yourself and enjoy your work too!
RED MANGO
There's always room for dessert! Before the night is over, stop by Red Mango to fill your cup for only $5. The yogurt and toppings possibilities are endless, and the memories you'll make are too!
View Dark Nights menus from all participating restaurants.
Host a Private Event
L.A. LIVE is the perfect place for your group meetings, party or convention. Choose from many elegant spaces.
Learn More