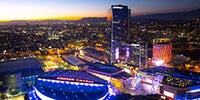 Estéban Jiménez is a motion picture pilot who goes by the handle Copterpilot on social media. There he posts amazing aerial photos and videos of L.A. landmarks, including L.A. LIVE! Just take a look at these!
Jiménez can be found here:
Host a Private Event
L.A. LIVE is the perfect place for your group meetings, party or convention. Choose from many elegant spaces.
Learn More