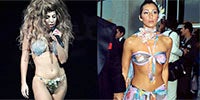 Fashion and pop icons Cher and Lady Gaga both come to L.A. LIVE to play STAPLES Center this summer. While both of these divas have a beyond bold fashion sense, whose choices throughout the years have been the fiercest? You be the judge.
1. OG Black Swans

2. RED-y for My Closeup

3. All Hail the Queens

4. Divas in Drag

5. Bikini Babes

RELATED SHOWS:
Host a Private Event
L.A. LIVE is the perfect place for your group meetings, party or convention. Choose from many elegant spaces.
Learn More