Brad Pitt Shocks Fans at Premiere House before 'World War Z' Screening
by laliveinsider on Fri., Jun 07 at 05:00 PM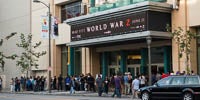 Brad Pitt surprised hundreds of fans at an early screening of his upcoming zombie flick, "World War Z," at the Premiere House at L.A. LIVE Friday evening.
Pitt, who plays the role of zombie-stomping "Gerry Lane" in the film, gave a brief introduction to a full house of screaming fans.
"I've been on the road, it has been amazing, but damn it is good to be home," Pitt annouced.
"World War Z" opens to the public June 21. Pitt's character travels the world to thwart a zombie pandemic that threatens to destroy humanity.
"You've never seen anything like it. I'm telling you, it's the most intense thing you'll see all summer. If not, I'll give you your money back -- personally," he said confidently.
The Premiere House -- L.A.'s premiere cinema -- has emerged as the new hot spot for movie premieres! With a giant 70-foot screen and seating for 800 moviegoers, the Premiere House is one of the largest stadium auditoriums in the U.S. and is the best place in L.A. to see Hollywood's biggest releases!
» Movie Ticket Information
» 'World War Z' Trailer & Official Movie Site
Host a Private Event
L.A. LIVE is the perfect place for your group meetings, party or convention. Choose from many elegant spaces.
Learn More