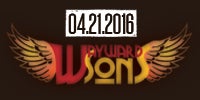 We all love singing along to the classics like 'Don't Stop Believing' and 'Hotel California'. On April 21 you can do just that with the Wayword Sons at Conga Room for FREE!
Now, let's get ready to sing along with these videos of at some of their best cover songs!
1. My Sharona!
This was a few years ago here at L.A. LIVE!
2. Any Way You Want It
3. Baba O'Riley
4. Hot Blooded
5.A little bit of everything!
To enjoy all these songs and more go to CONGAROOM.COM for FREE tickets on April 21 or CALL 213.745.0162!
Host a Private Event
L.A. LIVE is the perfect place for your group meetings, party or convention. Choose from many elegant spaces.
Learn More