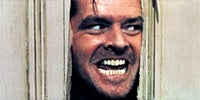 With Father's Day right around the corner and the start of the Los Angeles Film Festival here at L.A. LIVE, it got us thinking about the most famous dads in film. Here is our list of the best and worst movie dads of all time!
Best Movie Dads
5. George Banks - 'Father of the Bride'
This awesome dad is there for his daughter through thick and thin, which isn't always easy while planning a wedding. All this Mr. Banks wants for his daughter is to give her the world!

4. Marlin - 'Finding Nemo'
Marlin is one of the most determined dads on this list. When his son Nemo goes missing, Marlin searches the entire ocean to find him.
3. Daniel Hillard/Mrs. Doubtfire - 'Mrs. Doubtfire'
Cross-dressing for your children may be one of the ultimate forms of dedication. When Daniel Hillard and his wife separate and she gets custody, he morphs into Mrs. Doubtfire to spend time with his children.
2. Atticus Finch - 'To Kill a Mockingbird'
Atticus Finch is the ultimate role model. Caring, fair, and a man of integrity, this father was also Mr. Mom after his wife died. Atticus made time for his children as well as having a career as a prominent lawyer.
1. Chris Gardner - 'The Pursuit of Happyness'
This movie father struggled with homelessness, raising a son, and building a career as a stockbroker. Chris Gardner's love for his son was as strong as his desire to provide the best possible life for him.
Worst Movie Dads
5. Mr. Wormwood-'Matilda'
Mr. Wormwood is certainly one of the grumpiest movie dads around. His smart daughter Matilda gets so annoyed by her pops that she plays tricks such as dying his hair platinum blonde and supergluing a hat to his head.
4. Fletcher Reede - 'Liar Liar'
Fletcher Reede, a lawyer, lies for a living. He eventually lies to his young son one too many times, before his son wishes on his birthday that his dad can't lie anymore.
3. Jerry Blake - 'The Stepfather'
Jerry Blake is a creeper to say the least. He is a serial killer who scams an innocent widow and her daughter, before terrorizing them in their own home.
2. Darth Vader - 'Star Wars'
What a great start to a new father/son relationship! If cutting of your son's arm with a light sabre isn't love, then what is?
1. Jack Torrence - 'The Shining'
Alcoholic, abusive, and insane all sound like a winning combination for a father figure right? Absolutely not! That is what makes Jack Torrence the worst movie dad ever. As if that isn't enough, he even tries to kill his own son!
Treat your "best" dad to an amazing Father's Day and bring him to L.A. LIVE for the LA Film Fest. The festival is happening June 11-19. » Get Your Tickets!
Host a Private Event
L.A. LIVE is the perfect place for your group meetings, party or convention. Choose from many elegant spaces.
Learn More