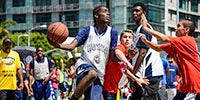 With the Nike Basketball 3ON3 Tournament at L.A. LIVE quickly approaching, we wanted to make sure that you're well versed in your basketball slang. Real "ballers" will "come in clutch" with the following pharses. If that last sentence was foreign to you, make sure to read up so that you can keep up on the court or as a spectator!
Air Ball:
When a shot is attempted and not blocked by a defender, but fails to hit rim or backboard.
USAGE: "LeBron James shot a buzzer beater, but it was a total airball."
All Day:
If a player is consistently making shots. He can make it "all day"
USAGE: "Stephen Curry can make 3 pointers all day"
Alley Oop:
A player throws the ball to a teammate who is standing near the basket. The player by the basket jumps, catches the ball midair, and immediately scores the basket. (Usually alley oops are dunks).
USAGE: "CP3 tosses the ball to DeAndre Jordan for the alley oop"
And One:
When a player gets fouled while in the act of shooting but still scores the basket. The player then gets the opportunity for a free throw attempt, making it a three point play.
USAGE: "He made the shot and was fouled! Let's see if he can get the and one"
Baller:
A basketball player
USAGE: "Kobe Bryant is a baller"
Black Hole:
A player who gets the ball and never passes to other players
USAGE: "Carmelo Anthony is a black hole"
Boards:
Getting a rebound or rebounding
USAGE: "Dwight Howard always gets the boards"
Bounce:
Any player who can jump high
USAGE: "Blake Griffin has bounce"
Bucket:
Either the rim of the basket or a shot made.
USAGE: "KD gets buckets"
Clutch:
A commonly used phrase in basketball, also used in other sports. To be a clutch player is playing great when it matters the most and being able to make the big shots and plays, usually resulting in a win.
USAGE: "That basket was so clutch"
Crossover:
A dribbling move that is performed by an offensive player when he or she moves the ball from one side of the body to the other with a single dribble. It is a fakeout on the offensive player's part.
USAGE: "Allen Iverson has a killer crossover"
D Up:
To play defense (aka "checking your man")
USAGE: "He's not covered, D Up!"
Field Goal:
A field goal in basketball is worth two points and is a shot made from inside the three point line. A field goal is a jump shot, layup, or dunk.
USAGE: "DeAndre Jordan has the best field goal percentage in the league"
Flop:
An intentional fall by a player when there is little to no physical contact by an opposing player in order for the officials to call a personal foul on the opponent.
USAGE: "Dwayne Wade is always flopping"
Making Him Dance:
If you crossover an opponent and he ends up spinning around, you've made him dance.
USAGE: "In his heyday, Allen Iverson was known for his crossover that made his opponents dance"
Nothing But Net:
When the basketball goes into the net without hitting the backboard or the rim (aka a swish).
USAGE: "That shot was beautiful, nothing but net"
Paint:
The area in front of the basket (aka the key or lane).
USAGE: "He shoots it from in the paint"
Post Up:
A player who positions himself near the basket for a pass with his back to the basket and a defender behind him.
USAGE: "Because of his size, Shaq posts up at the basket"
Sixth Man:
The first sub off the bench, replaces a starter. Usually not a starter, but often finishes the game. Also refers to fans.
USAGE: "Jack Nicholson is at every Lakers game, you could even call him the sixth man"
Use the Glass:
Making a shot off the backboard
USAGE: If you can't make the shots, use the glass!"
Nike Basketball 3ON3 Tournament is taking place at L.A. LIVE August 8-10! Don't miss your opportunity to play in the largest 3-on-3 tournament in Los Angeles! » Registration Now!
Newsletter
Exciting offers, pre-sale notices and exclusive contests.
Host a Private Event
L.A. LIVE is the perfect place for your group meetings, party or convention. Choose from many elegant spaces.
Learn More