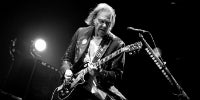 A Special One-Night Event Featuring a Live In-Person Q&A with Neil Young
Celebrate 'An Evening With Neil Young' at Regal Cinemas L.A. LIVE on Monday, February 29th brought to you by Fathom Events, Warner Bros. Records and AARP. Young fans will experience a unique opportunity to share an intimate auditorium with the legendary musician. The live audience will first enjoy "Human Highway," Young's 1982 comedy starring Tamblyn, Stewart, Dean Stockwell, Dennis Hopper and Devo, in an all-new digital restoration. Then, "Rust Never Sleeps," the full-length feature about Young's 1978 concert tour, will give the audience a spectacular set list full of Young's most popular songs, showcasing classic hits such as "I Am a Child," featuring Crazy Horse, "Cinnamon Girl," "Like a Hurricane" and both the acoustic and electric versions of his landmark song "Hey Hey, My My."
The night will conclude with an exclusive, live in-person Q&A with Neil Young hosted by Cameron Crowe and featuring his eclectic cast, which includes Gerald V. Casale of Devo, Russ Tamblyn and Charlotte Stewart.
Tickets are just $15.00 • Doors open at 4:30PM • General Seating
With multiple GRAMMYs®, Juno Awards and many other notable accolades earned during his illustrious career, Neil Young is one of the most influential musicians of the generation. The New York Times described "Rust Never Sleeps" as offering "some of [Young's] strongest songs, both new and old, in performances as fine or finer than those on his recent, partly live record album of the same title," and said "the intensity of the singing and playing of Crazy Horse, Mr. Young's longtime partners for electric-rock projects, is as moving as rock can offer."
John Rubey, Fathom Events CEO, said, "We are proud to present 'An Evening With Neil Young' to fans across the nation. Music lovers will get a unique opportunity to experience over three-and-a-half hours of landmark rock n' roll entertainment from one of music's most beloved singer-songwriters."
"Neil Young is a singular talent and an icon of American popular music, and we are proud and honored to support this event, knowing full well how much our members will enjoy it," said Robert Love, editor in chief of AARP The Magazine. "I have many fond memories of seeing Neil and Crazy Horse at the Fillmore East in New York City, solo at Carnegie Hall, and have followed his career since Buffalo Springfield."
Regal Cinemas L.A. LIVE is located at 1000 W Olympic Blvd, Los Angeles, CA 90015.
For information on parking click here.
Host a Private Event
L.A. LIVE is the perfect place for your group meetings, party or convention. Choose from many elegant spaces.
Learn More