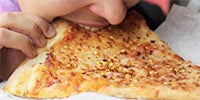 With our many pizza eatery options at L.A. LIVE, we thought it would be fun to examine the many ways that pizza lovers devour a delicious slice. After much extensive research, our findings have revealed that there are a total of six variations that most people opt for when it comes to eating the doughy good stuff. Which style do you prefer?

---
1. Fork and Knife - Eating your pizza with a fork and knife is especially effective if the crust is too thin to withstand the weight of the cheese and toppings. This method allows you to consume your slice without having to fight toppings from falling off, cheese from oozing out or sauce from slipping down your shirt.


2. The New York fold - This method is most notable for allowing you to double the amount of pizza you can eat in one bite. Other perks to the fold is that it helps avoid mess by trapping loose toppings, cheese, and sauce within the "fold" of the crust and you can easily drain off excess grease through the tip of your pie slice.

3. Remove toppings and eat seperately - A disassembled slice of pizza takes more time to consume, but those that choose this approach prefer to eat each individual ingredient seperately to get the optimal tasting experience.

4. Straight - The most popular way to eat pizza is with your hands, straight, no folding. Even the President agrees with the majority on this one.

5. Crust first - When you eat the crust first, or bite into the crust and pizza to blend them together this allows the eater to consume the least flavorful part of the pizza first. This way you save the gooey cheese, sauce and toppings for the last heavenly bite.

6. Dipping - Pizza crust is perfect for dipping which is why it has become more and more popular to order a side of ranch, marinara, or other popular dipping sauces to go along with your pizza. The extra kick that the dipping sauce takes the flavor experience up a notch, which is why most people are kooked on this approach.

Whichever way you choose, all methods are welcome -- and deliciously effective! Try your fav method at Tom's Urban, Wolfgang Puck Bar & Grill, and Yard House at L.A. LIVE!
Host a Private Event
L.A. LIVE is the perfect place for your group meetings, party or convention. Choose from many elegant spaces.
Learn More