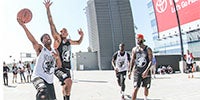 6TH ANNUAL NIKE BASKETBALL 3ON3 TOURNAMENT PRESENTED BY NBC4 SOUTHERN CALIFORNIA BROUGHT MORE THAN 1,500 TEAMS TO L.A. LIVE FOR LARGEST 3-ON-3 TOURNAMENT IN CALIFORNIA
PARTICIPANTS AND FANS PACKED THE STREETS OF DOWNTOWN LOS ANGELES AND L.A. LIVE FOR THE THREE DAY EVENT FILLED WITH GREAT BASKETBALL & ENTERTAINMENT
LOS ANGELES, CA (August 10, 2014) - The 6th annual Nike Basketball 3ON3 Tournament presented by NBC4 Southern California L.A. LIVE wrapped up competition today after completing more than 4,500 games, featuring 1,500 teams with over 5,000 players, drawing more than 25,000 visitors over the three day event. Players and fans packed the streets lining L.A. LIVE, STAPLES Center, Chick Hearn Court and the parking lots along Figueroa Street with over 100 courts set up for competition, creating the largest 3-on-3 basketball tournament in California. The tournament featured special Olympic, wheelchair, BIG 5 Sporting Goods Youth, NBC4 Southern California High School, McDonald's Adult and Nike Elite divisions.

The entertainment-packed weekend kicked off on Friday evening with the 3rd annual Josh Hutcherson Celebrity Basketball Game benefiting Straight But Not Narrow. Hutcherson was joined by Clark Gregg, Terrell Owens, Josh Henderson, Kyle Massey, Romeo Miller, Christopher Mintz-Plasse and other celebrities who teamed up to raise money for Straight But Not Narrow. The ally organization prepares and trains young adults on how to become allies of their LGBTQ peers. A $37,180 check was presented to SBNN by AEG on behalf of the Nike Basketball 3ON3 Tournament presented by NBC4.

Saturday's competition was highlighted by the popular Nike Slam Dunk Contest, drawing out the largest crowds of the day as internationally known slam dunkers Chris Staples, Jonathan Clark, Michael Purdie and Michael "AirDogg" Stewart showed off their skills. Stewart won the Nike Slam Dunk Contest by winning the highest score from celebrity judges, LA Lakers' Xavier Henry, LA Lakers' Assistant Coach Mark Madsen, former NBA player Morris Peterson, NBC4's Mario Solis and Power 106 DJ Rikki Martinez. Other highlights from Saturday's competition included tournament play by recording artist Chris Brown, rapper The Game and Quincy Combs, with Kelly Osbourne stopping by to cheer on the team.

"The action on and off the court during the 6th annual Nike Basketball 3ON3 Tournament presented by NBC4 continues to set apart this event as the best 3-on-3 tournament in the state and continues to get better year after year," said Ryan Golden, Tournament Director. "Throughout the weekend, our hardworking staff, volunteers, sponsors and competitors created a wonderful and unforgettable experience."

Sunday's competition was highlighted by the Nike Elite Finals for the six-foot and under, six-foot and over and women's elite brackets. The women's Nike Elite division was won by Teamwork consisting of players Meghan Kristner, Alice Bolton, Lineni Noa and Janae Young.

The Nike Elite men's six foot and under elite division was won by Ballerz By Law composed of Ryan Cleaves, Gentry Goode, Nick Denbeigh and Jamar Walker.

Closing out the 6th Annual Nike Basketball 3ON3 Tournament presented by NBC4, the Nike Elite division finals was won by Crossover Elite from the Inland Empire were Bobby Burries, Ernie Burries, Lance Ray and Dave Sybesma.Each player from the winning teams in the elite divisions won a cash prize, Nike Vault Gift Card and a one-year membership to LA Fitness.

The 2014 Nike Basketball 3ON3 Tournament presented by NBC4 drew out the most teams in the event history, more than tripling in size from the inaugural year and has become a Southern California tradition that now attracts the best teams from California and around the country.

Official sponsors of the Nike Basketball 3ON3 Tournament presented by NBC4 include 5th year title sponsor Nike, 2nd year presenting partner NBC4 Southern California and Coca-Cola, McDonald's, BIG 5 Sporting Goods, Crunchies, Toyota and Core Power

Plans for the 7th annual Nike Basketball 3ON3 Tournament at L.A. LIVE are under way and will be announced in the coming months.
Host a Private Event
L.A. LIVE is the perfect place for your group meetings, party or convention. Choose from many elegant spaces.
Learn More