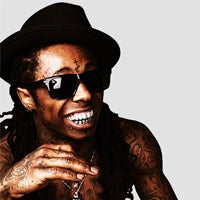 BET Experience l Saturday, June 25 - 7PM l STAPLES Center l Buy Tickets
---
From Lollipop to How To Love to A Milli Lil Wayne always gives us hit after hit and now that he's teamed up with 2 Chainz for Collegrove he's reached new heights! We can't wait to see him take the stage at the BET Experience on June 25th! But before that happens we need to get to know him a little better!
10 Things You Didn't Know About Lil Wayne
1. Lil Wayne wrote his first rap at only 8 years old and released his first album True Story at the age of 11!
2. Wayne did not always go by Lil Wayne. His rap name used to be "Shrimp Daddy" at a young age and then known as "Baby D".
3. He was on life support for 2 weeks whe he accidentally shot himself in the chest with his stepfather's gun at the age of 12. He says getting shot is the reason he writes. The bullet was only two inches away from his heart, and surviving the accident changed his life.
4. He is a father of 4! The rapper had his first daughter, Reginea Carter, at the age of 16.
5. Growing up he was into movies and theater. He even performed in a school production of The Wiz and In 2007 made an appearance in box office hit "Who's your Caddy?".
6. At 14 years old his mom pulled him out of school after finding a gun in his backpack.
7. Lil Wayne is a huge fan of Nirvana. He said the Seattle grunge band had a huge impact on him.
8. The last time Wayne wrote down any rhymes was in 2002. Since then he has recorded verses without jotting anything down.
9. He released the album, I Am Not a Human Being on his birthday (September 27) while serving a year-long prison sentence for possession of a handgun in 2010.
10. He has an entire verse of Jay-Z tattooed on his leg. The song is "Lucky Me" - which he also tattooed on his neck as a tribute to one of his favorite songs.
Don't miss him at the BET Experience Satuday, June 25th! Buy tickets here!
Host a Private Event
L.A. LIVE is the perfect place for your group meetings, party or convention. Choose from many elegant spaces.
Learn More