Now Playing: 'Magnificent Seven'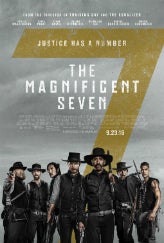 About The Film
Seven gun men in the old west gradually come together to help a poor village against savage thieves.
-
Today's Premiere Cinema Feature
The Magnificent Seven (2016)
Genre: Action_Adventure
Synopsis: Director Antoine Fuqua brings his modern vision to a classic story in The Magnificent Seven. With the town of Rose Creek under the deadly control of industrialist Bartholomew Bogue, the desperate townspeople employ protection from seven outlaws, bounty hunters, gamblers and hired guns. As they prepare the town for the violent showdown that they know is coming, these seven mercenaries find themselves fighting for more than money.
Rating: PG-13
4DX at Regal L.A. LIVE
Regal L.A. LIVE is now home to the first 4DX theater in the United States! Experience the biggest blockbusters like never before with 4DX technology! The 4DX auditorium features motion seats and special effects including wind, fog, mist/rain, scents and more that perfectly synch to the on-screen action.
» Learn More About 4DX Technology
» Follow 4DX on Facebook
4DX Effects
Heave
Vertical movement of the seats.
Roll
Sideways tilting of the seats.
Pitch
Forward and backward rocking of the seats.
Environmental Effects
In addition to the movements, the theater is equipped with environmental effects to further enhance the experience. From a malicious storm to a gentle breeze, from the smoky explosions to the warm smell of coffee, the 4DX technology enhances these experiences with appropriate effects. » More Info
Host a Private Event
L.A. LIVE is the perfect place for your group meetings, party or convention. Choose from many elegant spaces.
Learn More