Now Playing: 'Ben-Hur'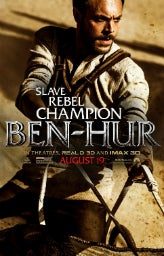 About The Film
The epic story of Judah Ben-Hur (Jack Huston), a prince falsely accused of treason by his adopted brother, an officer in the Roman army. After years at sea, Judah returns to his homeland to seek revenge, but finds redemption.
Today's Premiere Cinema Feature
War Dogs
Genre: Comedy, Drama
Synopsis: With the war in Iraq raging on, Efraim Diveroli offers childhood friend David Packouz a chance to make big bucks by becoming an international arms dealer. Together, they exploit a government initiative that allows businesses to bid on U.S. military contracts. Starting small allows the duo to rake in money and live the high life. They soon find themselves in over their heads after landing a $300 million deal to supply Afghan forces, a deal that puts them in business with some very shady people.
Rating: R
4DX at Regal L.A. LIVE
Regal L.A. LIVE is now home to the first 4DX theater in the United States! Experience the biggest blockbusters like never before with 4DX technology! The 4DX auditorium features motion seats and special effects including wind, fog, mist/rain, scents and more that perfectly synch to the on-screen action.
» Learn More About 4DX Technology
» Follow 4DX on Facebook
4DX Effects
Heave
Vertical movement of the seats.
Roll
Sideways tilting of the seats.
Pitch
Forward and backward rocking of the seats.
Environmental Effects
In addition to the movements, the theater is equipped with environmental effects to further enhance the experience. From a malicious storm to a gentle breeze, from the smoky explosions to the warm smell of coffee, the 4DX technology enhances these experiences with appropriate effects. » More Info
Host a Private Event
L.A. LIVE is the perfect place for your group meetings, party or convention. Choose from many elegant spaces.
Learn More