L.A. LIVE FAMILY DAY TAKEOVER
Jul. 11

- 12:00 PM

/ Door Time: 12:00PM / L.A. LIVE
Gather your friends and family and head down to Downtown Los Angeles this Saturday, July 11 at 12-8pm for FAMILY DAY TAKEOVER at L.A. LIVE! Come check out The Minions movie on opening weekend at Regal Cinemas L.A. LIVE and enjoy the FREE family fun before and after the movie!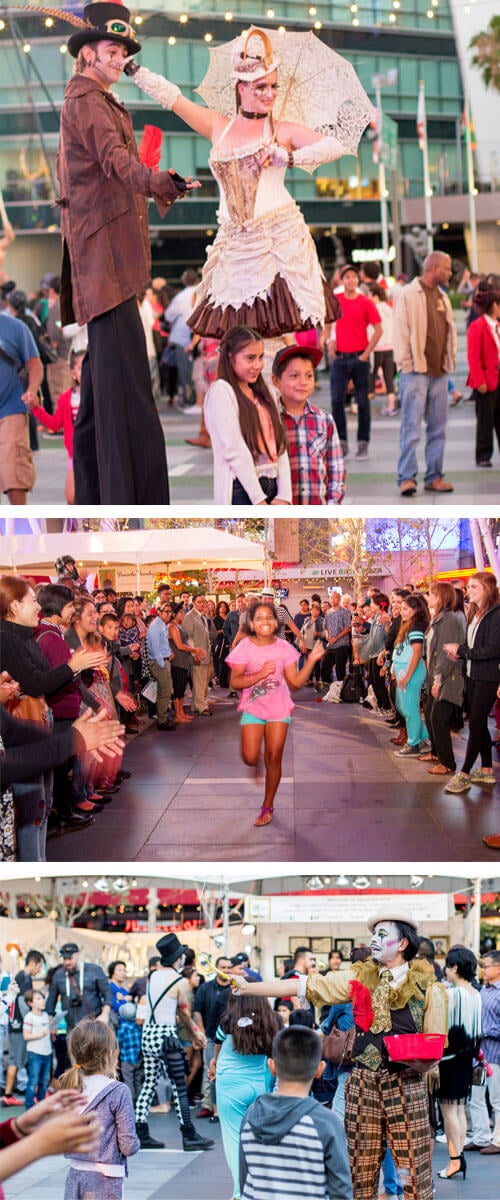 GET YOUR MINIONS MOVIE TICKETS NOW! 4DX movie tickets for Minions will be discounted to only $16 for child's ticket AND this includes FREE zap pack—a special popcorn, drink and fruit snack! More info here: www.lalive.com/4dx
SPECIAL KIDS MENUS AT PARTICIPATING RESTAURANTS
$10 PARKING (cash or credit, free for L.A. LIVE Preferred Members) Lot W aka West Garage, Gate B Only » PARKING MAP
MUSIC • STORYTELLING • PUPPETS • MAGIC • STAGE PERFORMANCES:
L.A. LIVE Talent Showcase—Lucky Diaz and the Family Jam Band—The Amazing Kid Company—The Arty Loon Variety & Magic Show—Jazzy Ash and The Leaping Lizards—Kiddle Karoo—LA Love Band—Little Dippers Sing Along—Magic with Tony Daniels and Alan Oshiro—Mista Cookie Jar—Move 'N Play Music—Nick Kane LA Clown Super Show—Singalong with Ken Frawley—Twinkle Time—We Tell Stories—Wonderworld Puppets
HANDS-ON FUN
River Rover by Friends of Los Angeles River—"Shark Bites" Beach Cities Junior Roller Derby Team—The SEA Lab Tidepools by L.A. Conservation Corps—L.A. Kings Street Hockey
ROVING PERFORMANCES & APPEARANCES
Minion Characters—Balloon Artists—Break Dancers—Bubble Blowers—Caricaturists—Clowns—Face Painters—Hula Hoop Performers—Jugglers—Professional Cheerleaders—Stilt Walkers
ARTS & CRAFTS
Mexican Wrestler Mask-Making, Dream Catchers, Frida Kahlo Paper Dolls and Papel Picado with Plaza de la Raza—Face Painting and Foam Sticker Art withUrbanSitter—Participatory Mural with Master Muralists—Play Doh Station, Print Making and Sensory Bins with Zimmer Children's Museum
ARTISAN VENDORS
Backyard Hooligans—Cowpunk Leather—Diamonds Forevs—Freaky Wallet—Hipstitch Kids—Hot Glue & Faith—Indy Plush—Lil' Libros (Books for Kids)—Paxley Eyewear for Kids—Rad Kids—Shay Candles
PHOTO OPPS
Minion Characters and Backdrops—Baby Donkey Pinata Car—DTLA Letters
DEEJAYS
Francesca Harding-—Mobile Karaoke with DJ Mark of The Sound of Entertainment
EVENT INFO => http://on.fb.me/1NJcrY7
MOVIE TIMES
Children's ticket discount in 4DX!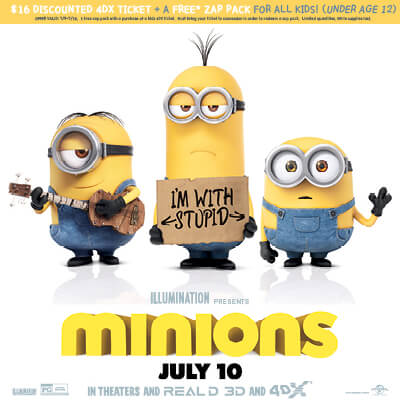 L.A. LIVE EVENT CURATED BY: Melissa Richardson Banks​ of Downtown Muse​ and Edgar Varela​ of We Are DTLA​
Kids Talent Search
Is your child a singer or musician? Do they have hidden talent? If your child is interested in showcasing their talent at our Family Day event on July 11, 2015 please click here.
Stay the Night
Stay the Night at L.A. LIVE with a special hotel package that includes overnight accommodations at JW Marriott Los Angeles, L.A. LIVE, breakfast for two, and complimentary valet parking.
*Based upon availability. Blackout dates may apply.