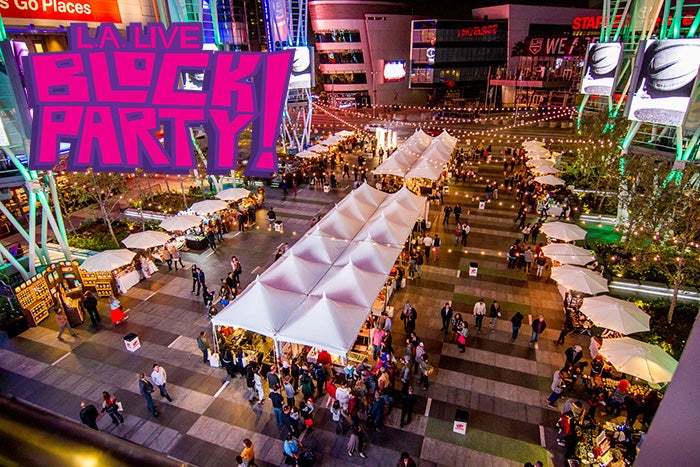 Join us at L.A. LIVE Block Party for a night of shopping and drinking! Stroll around and shop at our Pop-Up Marketplace with over 40 local vendors while listening to live music! Enjoy $5 food and drink menus at participating restaurants. The event is free and open to the public!

Pop-Up Marketplace:
Amor y Flor | Arts Petite | Benjibug Vinyl Art | Boricubi | Canyon Collection | Cowpunk Leather | Curmudgeon Cards | Cute Laces | Detroit Trash | Eddy Lee Art | Flea Market Girl | Freedumb Founded | Hannah Frost Jewelry | Ichiban Bath Co | Incandescent Bloom | JadenMoon Natural Soaps & Skin Care | La Casa de Frida | Lit Soul Candles | London Manori | Marston Company | Mountains & Skye | OaxacanSoul | Olivia's Heritage | ONYX XOXO | Panache Jewelry | Piece by Piece | Pocket Square Clothing | Pop Art by PJ Andrews | UNiiQUE | Railcar Fine Goods | Rose Gypsy | Sabukana Designs | Secoscapes | SoCal Etsy Guild | Stephanie Payan Designs | The Key Historic | TIFF WU | Tiger Moon Designs | Trece Cielos Mugs | Two Little Kings | UNiique | West Coasters | WIKIDCANVAS | YHF Los Angeles
If you're interested in being a vendor or performer at one of our events, please submit your info.
DJ:
MUSIC:
PERFORMANCES:
Matthew Pretty, The Bucket Boy | Unity Dance Crew | Body Painting by Robert Yancy | Biorhythms by Body Paint | Hollywood Hotshots | All Night Diner Music | Violinist Tamboura Baptiste | Sethward Productions | Darin Malfi | One-Man Band by Gilbert Montoya | Juggling by Pablo Paniagua | Bob's Flow Circus | Derek McAlister
Support LA's best undiscovered talent by leaving a tip as they showcase their talents for you to enjoy!
OFFERS:
30% Off the New Era store and TEAM LA store | open until 9PM
ACTIVITIES:
The LA Kings are offering public skating from 6PM-10PM at STAPLES Center, for $20 per person!
Skates are included with admission or fans can bring their own skates.

LA Kings Season Ticket Members can skate for FREE (2 people per card), and have their own line of entry!
Must show Season Ticket Member card upon entrance. For tickets and entry, visit the 11th Street Entry of STAPLES
Center located on the corner of Chick Hearn Ct. (11th St.) and Georgia St.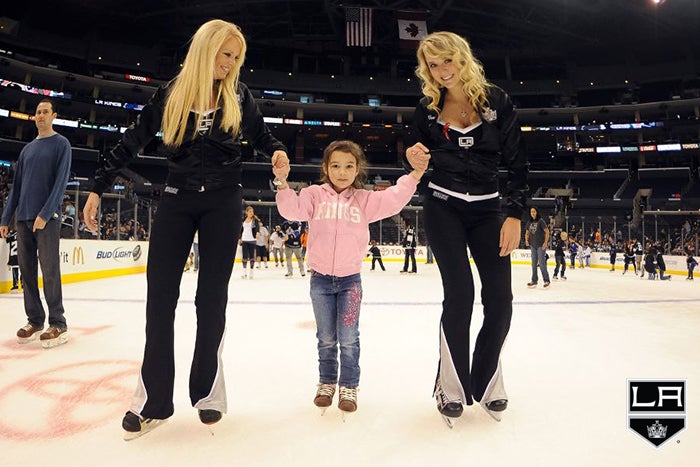 Enjoy LA Kings activations at the Block Party including Street Hockey, Shot On Goal, and a Kings Prize Wheel all for FREE!