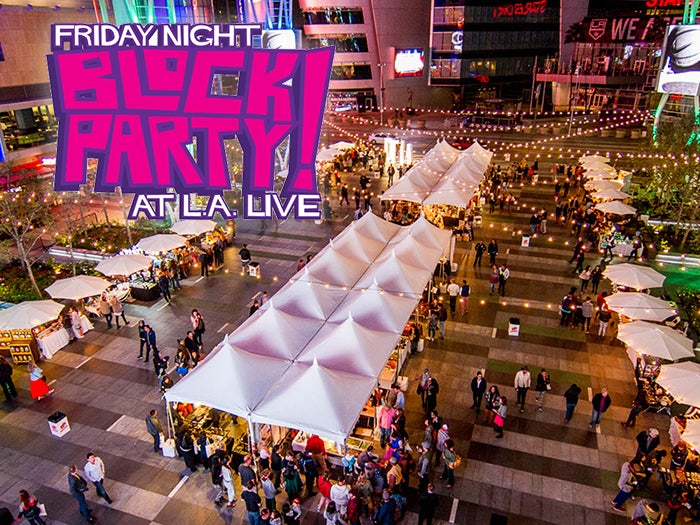 Join us at Friday Night Block Party at L.A. LIVE on September 28, for a night of shopping, live music and entertainment! Stroll around and shop at our Pop-Up Marketplace with 25+ local vendors, while listening to live music! The event is free and open to the public from 6PM to late night!

VENDORS:
Canyon Collection | Eddy Lee Art | Esmé Design | Flea Market Girl | Freaky Record | Freedumb Founded | Graphic Villain | Hannah Frost Jewelry | Incandescent Bloom | Jborda Woodworks | Lit Soul Candles | London Manori | Miranda Ink | OaxacanSoul | Panache Jewelry | Pileus Chaotic Art | Promo Ideation | Rock & Sock | Rose Gypsy | Rx Candles | Smiths & Kings | The Pretty Eclectic | Two Little Kings | Westcoasterzz | Wag City Clothing | WIKIDCANVAS
MUSIC:
PERFORMANCES:
Circus Performers Pablo Paniagua and Alex Bistrevsky | Hollywood Hotshots | Illusionist & Magician Joshua G | LALA Brass Band | Lee the Musician | The Bucket Boy | Unity Crew
ARTISTS:
Aila | AiseBorn | Allison Bamcat | espy dpt znc | Phobik | SEL
Support LA's best undiscovered talent by leaving a tip as they showcase their talents for you to enjoy!
If you're interested in being a vendor or performer at one of our events, please submit your info.

When visiting L.A. LIVE for 3½ hours or more, we recommend using the West Garage (Lot W, Enter Gate B which is on Chick Hearn Court).
There is a flat rate of $30 payable upon entrance.
1005 Chick Hearn Ct, Los Angeles, CA 90015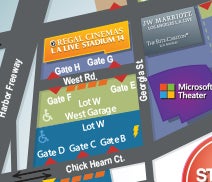 *Talent and vendors subject to change.