Wolfgang Puck Bar & Grill
The name Wolfgang Puck is synonymous with the best of restaurant hospitality and the ultimate in culinary arts. The legendary chef has built a gastronomic empire that spans coast to coast. At Wolfgang Puck Bar & Grill, Puck teams with preeminent designer Tony Chi to bring guests his take on modernized "Bar & Grill" cuisine.
Guests can find Puck's signature comfort food with a variety of inventive dishes drawing inspiration from his renowned fine dining restaurants ranging in price to accommodate varying budgets. The restaurant offers creative salads, wood-oven baked pizzas, handmade pastas, enticing entrees and meats grilled over hard wood.
SUMMER OF BEER AT WOLFGANG PUCK BAR & GRILL L.A. LIVE / JUNE 2ND
Next week season 1 of Viceland's new show BEERLAND hosted by Golden Road Brewing Founder Meg Gill, will be coming to an end. To celebrate the season finale and the winning home-brewer from this season, on Friday, June 2nd from 4PM – 8PM, Golden Road has exclusively partnered with Wolfgang Puck Bar & Grill which will have the winning homebrew available on draft, for one night only.
Tickets are $20 (before tax and gratuity) and include a small bites menu created by Executive Chef Gisselle Vazquez, live music on the patio, and your first pour of the winning beer. Sample menu items include a Shrimp Ceviche Tostada, Spicy Jalapeno Baja Sliders, and House Made Pretzels with Beer Cheese Dip. Golden Road will also be pouring some of their favorite seasonal beers on the patio including the Wolf Pup Saison and Tart Mango Cart Wheat Ale.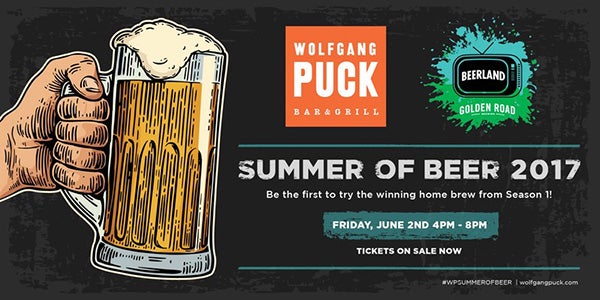 Promotions
PARKING VALIDATION
Each L.A. LIVE business determines their own rules regarding validation. Please call the business directly to inquire about the terms for parking validation. View a parking map.
Restaurant Information
Wolfgang Puck Bar & Grill
800 West Olympic Boulevard
Los Angeles, California 90015
wolfgangpuck.com
Phone: (213) 748-9700
HOURS OF OPERATION
Monday
5 p.m. - 11 p.m.
Tuesday - Thursday
11:30 a.m. - 11 p.m.
Friday - Saturday
11:30 a.m. - Midnight..
Sunday
Dinner 5 p.m. - 11 p.m.
*Hours subject to change due to concert/event schedule at L.A. LIVE, it's recommended to call ahead for those hours.
Newsletter
Exciting offers, pre-sale notices and exclusive contests.